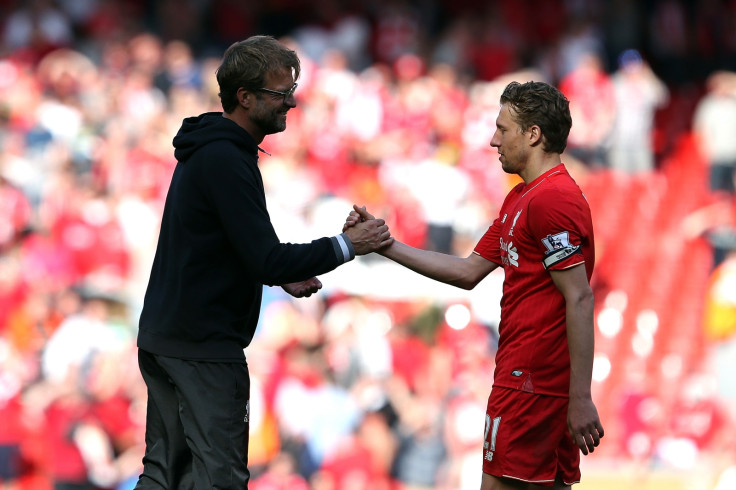 Liverpool midfielder Lucas Leiva has provided a fitness boost for manager Jurgen Klopp ahead of the coming crucial games with Leicester City and Chelsea after revealing that he is now fully fit to play. Meanwhile, summer signing Loris Karius expects to return to the club training sessions soon after he underwent a successful operation on Wednesday (31 August) in the latest step of his rehabilitation.
The Brazilian is yet to play a game this season after he suffered a hamstring injury during the preseason. Yet, he already made the bench during the 1-1 draw against Tottenham Hotspur last weekend and is now taking advantage of the international break to regain his best form.
"I'm 100%, I would say," he said to Liverpoolfc.com after he played for the Under 23 side in a 3-1 win over Arsenal at the Emirates Stadium. "I didn't miss much, to be honest – I was only out for three-and-a-half weeks. I did a lot of training after that, played 45 minutes for the U23s and was on the bench the last game [at Tottenham].
"I'm ready to go. I think I had a very good preseason. I missed part of it but I think I've recovered. Now with the international break I have another two weeks to train hard and I feel very fit."
The news is a major boost for Klopp as just after the international break the Merseysiders face a busy week with two crucial games, with a home game against Premier League holders Leicester on 10 September before a trip to Chelsea six days later.
Those games may still come too early for Karius. Nevertheless, the goalkeeper also provided a positive update in the recovery of the right hand injury he suffered during the club's preseason tour of the US following a collision with Dejan Lovren.
The former Mainz keeper had an operation to remove the wire support placed in his right hand and revealed that he is now closing the last step in the rehabilitation, although insisting that he will not rush his return to action to avoid any risk.
"I had surgery on Wednesday, so now the wires have been removed that they put in four weeks ago. Now the fracture has healed, hopefully I can start training now and build it up," the keeper revealed. "I don't know if it is going to be a week or however long [before I am back in full training], I just need to see how it feels. But I can now start using my hands and catch balls. It's up to me now, basically.
"We're ahead of schedule because in total it's been about five weeks [since the injury] I think, but I don't want to rush it too much. Now I am in the last stages, I just want to feel good and confident about it, that it's all done. I am not going to rush it because of two or three days, but if I feel good then maybe I will be back way sooner than expected."