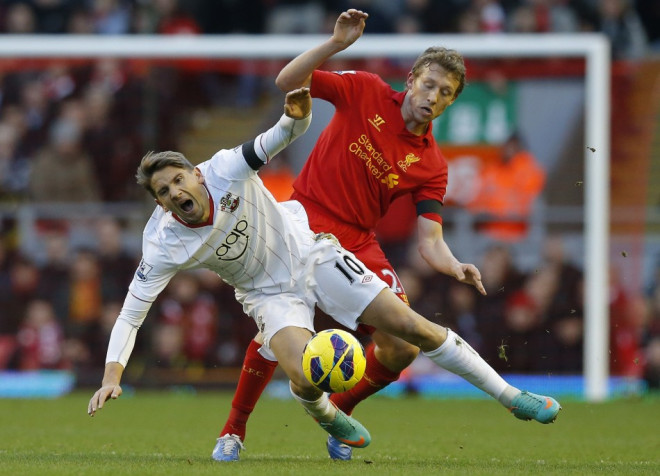 Liverpool have been handed a major boost after Brendan Rodgers confirmed midfielder Lucas Leiva and defender Mamadou Sakho are fit for their weekend clash against Manchester United.
The France international was suffering a torn tendon in his leg at Chelsea late last year, while the 27-year-old midfielder was ruled out since Liverpool's 2-2 draw against Aston Villa in January.
Lucas and Sakho both featured for the Reds's U21 against West Ham United last Friday. The former Swansea boss is delighted to have the midfielder and the defender back in contention for the clash against the Premier League champions on Sunday.
With the duo returning from injury, only left-back Jose Enrique is the absentee for Liverpool's trip to Old Trafford.
"We're fine - we've had Lucas Leiva and young Sakho back in. It's a great credit to them; when I gave players time off, they actually wanted to stay behind," Rodgers explained.
"Make no mistake, [Lucas and Sakho] are very valuable players for us in our squad and, if they're called upon to play or come off the bench between now and the end of the season, of course we will use them."
"Lucas and Mamadou have got great commitment to what we're doing and we'll welcome them back into the squad. Both came through that fine and they've trained very well this week. They come into the squad and we're only got Jose Enrique missing."
"It shows you the commitment of this squad. They had an opportunity to have a break, they'd been working very, very hard with the medical team, but they decided to stay and last Friday they travelled down themselves in a car to London to play in an Under-21s game," Liverpool manager stressed.
Liverpool are visiting Old Trafford on Sunday as genuine title contenders this season. The Merseyside club are second in the table with 59 points from 28 games, level on points with third place Arsenal.
Meanwhile, David Moyes's side have struggled in the league during this campaign. United are sixth with 48 points from 28 games, level on points with seventh place Everton, who still have a game in hand.