Mafia Boss of Bosses Toto Riina's Daughter 'Proud of Family Name'
Lucia Riina, daughter of convicted godfather known as the Beast, defends father as devout Catholic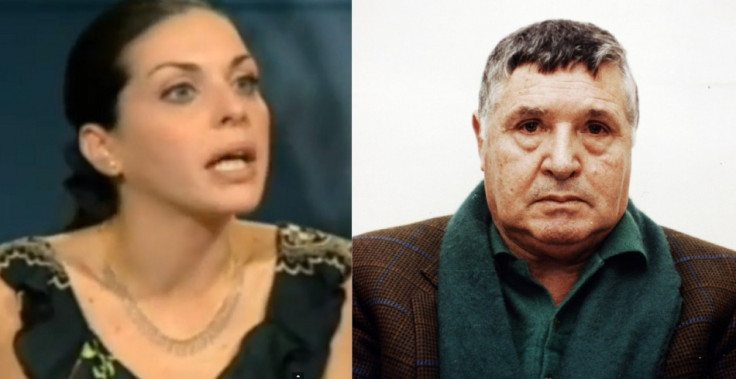 The daughter of the Italian Mafia boss of bosses Salvatore "Toto" Riina has triggered an outcry by saying that she was proud to bear her family name.
Lucia Riina, 32, apologised for her father's victims but loved the man who gained himself the nickname the Beast for his brutality.
"I'm honoured to be named so, and happy because it's my father's surname," she told Swiss Rts television in her first interview.
"I imagine that any child who loves its parents would not change its surname. It's my identity."
She is the youngest of the boss' four children by Antonietta Bagarella, sister of another infamous Cosa Nostra boss and convicted killer, Leoluca Bagarella.
Her 82-year-old father is serving a life sentence in Milan's Opera prison over a decades-long blood feud that ended with his arrest in 1993. He had been on the run for 23 years.
Also known as "U Curtu" - Sicilian for "Shorty" - Riina was first sentenced for murder in 1949 at the age of 19.
A native of the rural town of Corleone - a name made famous by the Godfather movie trilogy - Riina quickly climbed the ranks of the Sicilian Mafia.
But during his murderous ascent to the position of Boss of Bosses, Riina remained a devout Roman Catholic, his daughter said in the TV interview.
"We are Catholics and I owe my love to my father and my mother," she said. "Mama and Papa used to come into our room to say a prayer of thanks to Jesus together.
"We prayed for all our family members as any good Catholic family."
Her two elder brothers, Giovanni Francesco and Giuseppe Salvatore, were sentenced to life and eight years respectively for mafia-related crimes, including murder.
Families of victims of The Beast were outraged by her televised comments. Among them was the widow of Giovanni Falcone, an anti-mafia judge who was killed - allegedly upon Riina's order - along with his wife and three policemen in a bomb attack in 1992.
"Even accepting her role as a daughter and knowing that the sins of the father should not be visited on the head of the child, I can't accept that a woman who underlines she is a practising Catholic does not take her distance from her killer father," said Maria Falcone.
Sonia Alfano, president of the EU's anti-mafia commission, called the interview a "disgusting little spectacle".
"She is the daughter of one of the cruellest bosses ever, and she is proud about it. This is enough for me to judge her," Alfano said.
She also criticised the Italian government for failing to speak out against the interview.
© Copyright IBTimes 2023. All rights reserved.