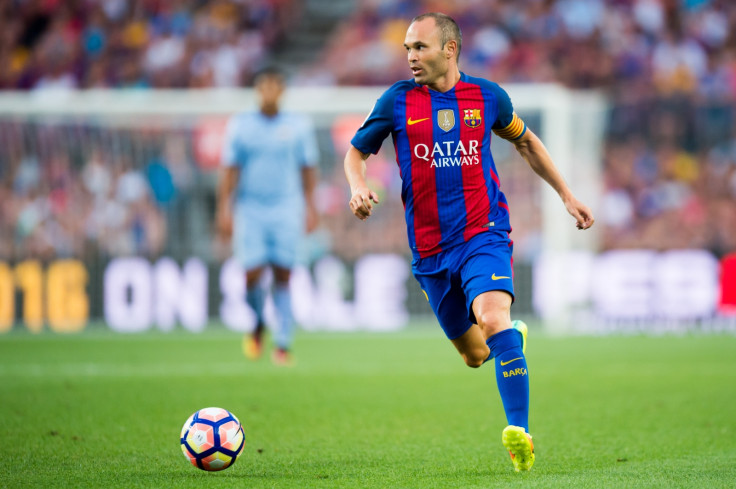 Barcelona manager Luis Enrique has backed his squad to cope with the absence of Andres Iniesta ahead of a busy month which sees the La Liga giants hosting Granada on Saturday (29 October) three days before the Champions League trip to Manchester City. The boss admits that "it's difficult to find anyone similar to" the captain, but he still has plenty of options with the likes of Denis Suarez, Andre Gomes, Rafinha Alcantara and Arda Turan.
Luis Enrique will be without other key players Gerard Pique, Jordi Alba or Jeremy Mathieu for Granada after all were hit by injuries in recent days. Spanish international maestro Iniesta has been ruled out for between six and eight weeks after damaging the lateral collateral ligament in his right knee during last weekend's controversial 3-2 victory over Valencia.
The 32-year-old midfielder is a key player in the middle of the park alongside Sergio Busquets and Ivan Rakitic and will be missed in a busy period with key fixtures against Manchester City and a trip to Sevilla in La Liga.
However, Luis Enrique refused to make excuses as his squad has already coped without Lionel Messi during the opening part of the current season.
Asked about cover for Iniesta against Granada and City, he replied: "Normally I select my players trying to find the best solution for my team in every situation. The majority of rivals adapt to what we do. Depending on what I want we have different types of players to choose from in the midfield positions."
Denis Suarez was the chosen one earlier in the season when Iniesta missed the first two La Liga games with a knee injury. Pressed whether the former Villarreal playmaker is the best fit to replace the captain, Enrique said: "It's difficult to find anyone similar to Iniesta. Denis and Rafinha have good dribbling and that's why they could look like Andres a little bit. Our midfielders are players able to give passes, [dribble] and arrive to the attack from the second line. All are very interesting."
Andre Gomes, Rafinha and Turan are the other three alternatives, but the latter two could also miss the Saturday game due to injuries.
The Brazilian missed the weekend encounter with Valencia but could be back in time having trained with the rest of the team on Thursday. Turan, however, looks unlikely to be fit after receiving a heavy knock to the ankle during the midweek Super Catalan Cup defeat to Espanyol.
"Tomorrow (on Saturday) when the doctors see Rafinha, (Jasper) Cillessen and Arda we will make a decision on them, they could make the squad. Even Arda. It is a period of the season where unusual things have happened, but this is to be expected and we need to know how to manage it," the Barcelona boss said. "We try and avoid taking risks, but with our fixture list it is normal to have injuries. We are a great squad and we have the capacity to resolve these difficult situations."
Luis Enrique is also short of options in his defence. The boss only has two first-team centre-backs available in Javier Mascherano and Samuel Umtiti for the next three games.
Reports in Spain suggest that he is ready to promote 21-year-old centre-back Marlon Santos from the B team to address the situation. However, Luis Enrique refused to heap pressure on his young player by confirming that.
"I don't like to talk about individual players and less when they are from the second team," he said. "It's not good for them and neither for the team. I am very happy with all of the academy players who help us out. They are a positive resource."