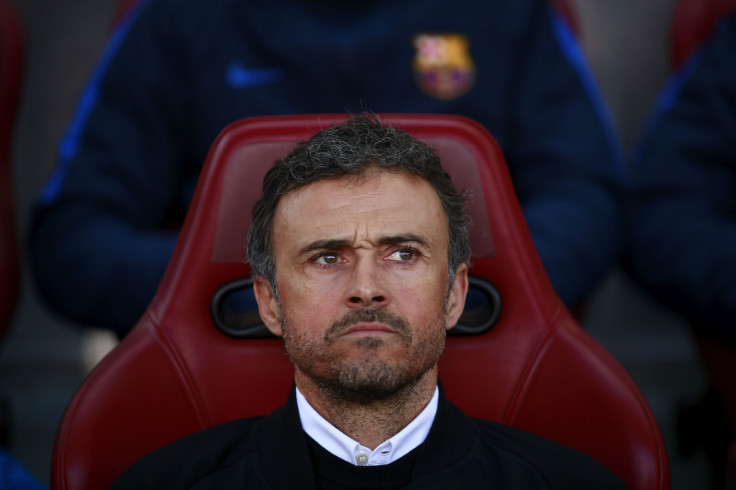 Luis Enrique has urged Barcelona fans to turn the Nou Camp into a "pressure cooker ready to explode" when Paris Saint-Germain visit the Catalan stadium on Wednesday night (8 March). The Spaniard remains optimistic that his charges can go through the Champions League quarter finals, despite needing to overturn a four-goal deficit from the first leg.
Barcelona suffered one of their most humiliating defeats in recent times at the Parc des Princes last month, as four goals from Unai Emery's side put them in danger of failing to reach the quarter-finals for the first time in a decade. However, the Catalans arrive for the second leg in a much better mood after winning their following four La Liga games to move to the top of the table, ahead of Real Madrid.
The impressive performance in beating Celta Vigo 5-0 at the weekend has boosted the hopes of Barcelona even further and Luis Enrique has urged fans to help his side to make an historic comeback on Wednesday night.
"The Nou Camp needs to be like a pressure cooker, ready to explode from the opening whistle," the Barcelona boss said. "A lot has happened between the first leg and today, which is no surprise given our busy schedule. We have improved and have put in some good performances. We are optimistic by nature and convinced of what we can do. We will try to make the most of the favourable circumstances."
"If a team can score four times against us, we can score six times against them. We have seen that before this season. We have nothing to lose. But let's not get crazy, tomorrow we have nothing to lose and everything to win."
The Barcelona boss faces a selection dilemma in midfield, as he has most of his players available following Andre Gomes returning to training sessions earlier this week.
Ivan Rakitic, Sergio Busquets, Sergi Roberto and Rafinha Alcantara excelled in a new 3-4-3 formation against Celta, but captain Andres Iniesta is expected to play a big role in this clash after he came off the bench on weekend.
However, Luis Enrique refused to disclose his plans with the intention of surprising Unai Emery on Wednesday night.
"Any of the players I have available can play. I will not give the slightest clue to our rivals. We can play with a number of different formations and this is the message to send to our rival," he added.
"I am certain that at some point we will be close to evening up the score. And when you get close, you raise morale, and your opponent starts getting discouraged."