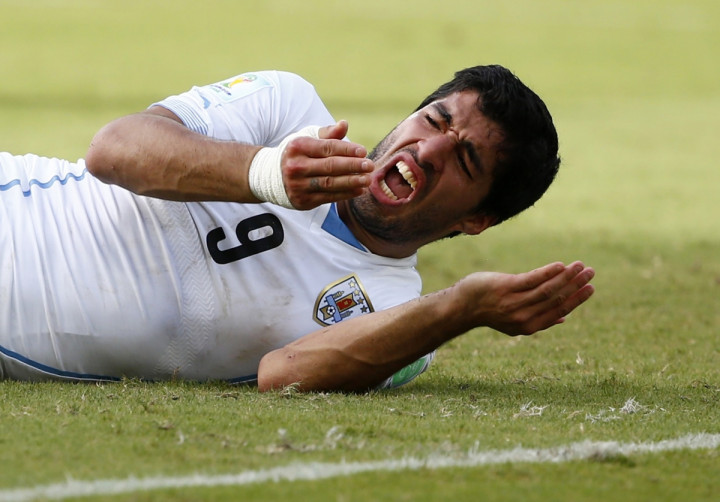 Uruguay striker Luis Suarez has been banned from all football for four months and handed a nine-match international ban after biting Italy defender Giorgio Chiellini.
World football's governing body has come down hard on the Liverpool striker after the controversy that shook the World Cup on Tuesday.
Suarez will also serve a stadium ban for the duration of his international ban.
"The player Luis Suarez is suspended for nine matches and banned for four months from any football-related activity" said Fifa media relations manager Delia Fischer.
"The Fifa disciplinary committee has decided the player is regarded as having breached article 48 paragraph one and article 57. The player is to be suspended for nine matches, the first is the upcoming match between Uruguay and Colombia on Saturday" Fischer added.
Suarez and Uruguay have the option to appeal against the decision.
The Liverpool striker clashed with Chiellini in the penalty area before pushing his head into the Italian's shoulder while the game was locked at 0-0.
Chiellini reacted furiously to the incident and immediately appealed to referee Marco Rodríguez, pulling down his shirt to show alleged bite marks on his shoulder.
Fifa are yet to confirm where the ban will prohibit Suarez from leaving Liverpool this summer.
Should Suarez's ban begin with immediate effect he will miss Liverpool's first nine games of the 2014/15 Premier League season. He will sit out games against Southampton, Manchester City, Tottenham Hotspur, Aston Villa, West Ham United, Everton, West Brom, Queens Park Rangers and Hull City.
The striker could make his return against Chelsea at Anfield, the scene of another infamous bite that saw him handed a 10-match ban for an identical incident involving Branislav Ivanovic in April 2013.
That followed a seven-match ban he received in Holland in 2010 while playing for Ajax, when he was caught on camera biting PSV Eindhoven midfielder Ottman Bakkal.
The longest ban in World Cup history had previously been an eight-match sanction on Italy's Mauro Tassotti for breaking Spain's Luis Enríque's nose in 1994 with an elbow.