Luis Suarez: Barcelona star handed 2-game ban but La Liga giants appeal and deny wrongdoing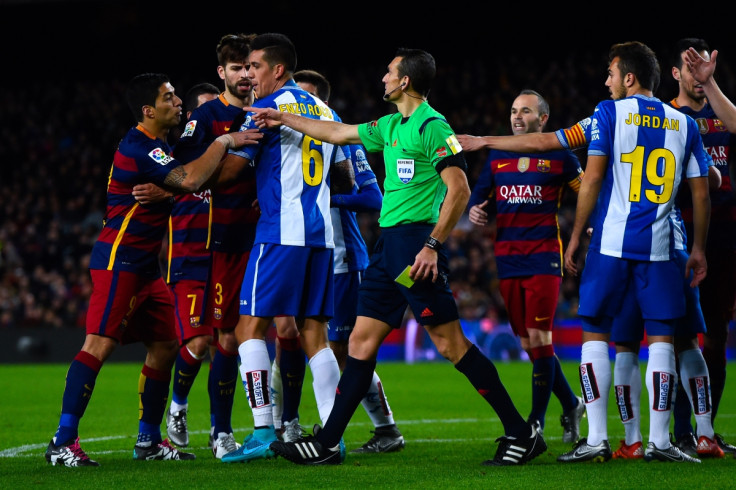 Barcelona star Luis Suarez has been banned for two games by the Spanish Football Federation following his behaviour in the aftermath of the bad-tempered 4-1 victory over Espanyol in the Copa del Rey on 6 January. The Catalan club have appealed the sanction, however if the ban remains, the former Liverpool striker will miss the second leg of the cup competition and the first leg of the quarter-finals should his side qualify.
Referee Martinez Munuera reported after the game that Suarez was responsible for sparking a spat between Espanyol and Barcelona players in the aftermath of the derby, with him waiting for his rivals in the tunnel to the dressing room while allegedly provoking them.
"At the end of the game, once in the tunnel, Barça's No 9, Suarez, Luis, while the Espanyol players were coming up the stairs, waited for them and shouted at them on various occasions. He said: 'I'm waiting for you, come here! You're a waste of space," the referee's report claimed as quoted by Sport.
"It provoked a confrontation between players of both clubs and the present security guards had to get involved, as did coaches of both teams."
Barcelona have now confirmed on its official website that the player has been given a two-game ban.
"FC Barcelona received notification on Friday from the Spanish Football Federation that striker Luis Suárez was to face a two-match suspension for allegedly taking part in a scrum between players from Barça and Espanyol in the tunnel leading to the dressing rooms following Wednesday's Copa del Rey last 16 first leg at Camp," the club said.
The Uruguay international will serve the bans in the Copa del Rey rather than La Liga. However, in opposition to the sanction, the club said: "FC Barcelona will immediately proceed to appeal the ban. If the sanction holds up, Suárez would miss the return leg next Wednesday and a hypothetical first leg of the quarter-finals, should Barça qualify.
"In the appeal, FC Barcelona is expected to argue that the player, as he later stated, did not use the allegedly offensive words that were attributed to him in the referee's official notes following the match."
Suarez confronted players during the game, provoking goalkeeper Pau Lopez in the celebration of Lionel Messi's second goal, while Papakouli Diop earned a straight red card after the Espanyol midfielder insulted the striker following another spat.
The first leg of the Copa del Rey round of 16 tie came off the back of a goalless draw in the clubs' La Liga encounter on 2 January, when Barcelona had complained of Espanyol's alleged violent approach to the game.
© Copyright IBTimes 2023. All rights reserved.