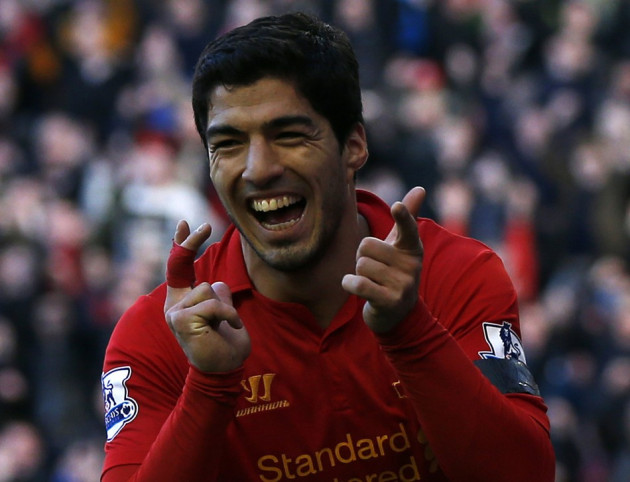 Luis Suarez is not planning on using the Confederations Cup as an opportunity to put himself in the shop window as his Liverpool future hangs in the balance.
The 26-year-old is currently preparing for Uruguay's contest against world champions Spain in Brazil on Sunday evening while questions of his future on Merseyside remain answered after he revealed his wishes to leave the club this summer.
The former Ajax forward named Real Madrid as a possible destination in the fallout of his announcement, but the Uruguayan's hopes of securing a move to the Bernabeu are in severe jeopardy as the La Liga runners up close in on a deal for his compatriot Edinson Cavani.
The Confederations Cup, which takes place in Brazil over the next two weeks, could provide Suarez with a platform to ramp up interest in his services once again with the number of clubs feasibly in the market for him diminishing as weeks go by.
But Suarez insists his priority is to help the 2011 Copa America champions in their quest to succeed in the final rehearsal act to next summer's World Cup.
"Here I come to play for Uruguay and not thinking what I can do to benefit a transfer," Suarez said.
"My only goal is to win the cup."
While clubs across Europe are unlikely to have forgotten about the forward's sensational exploits last season before he was banned for biting Chelsea's Branislav Ivanovic, the number of those in the running for Suarez is dropping.
Cavani's seemingly imminent move to the Bernabeu coupled with Real's persistent chase of Tottenham's Gareth Bale suggests the club will be fully stocked in their forward options.
Having spent £50m on bringing Brazilian superstar Neymar to the Nou Camp, Barcelona are unlikely to be interested in the enigmatic Liverpool star for the same reasons.
Suarez, who joined Liverpool for £23m in January 2011, revealed last month that the stream of criticism aimed at him by the British press was a key reason behind his decision to seek a move away from the Premier League.