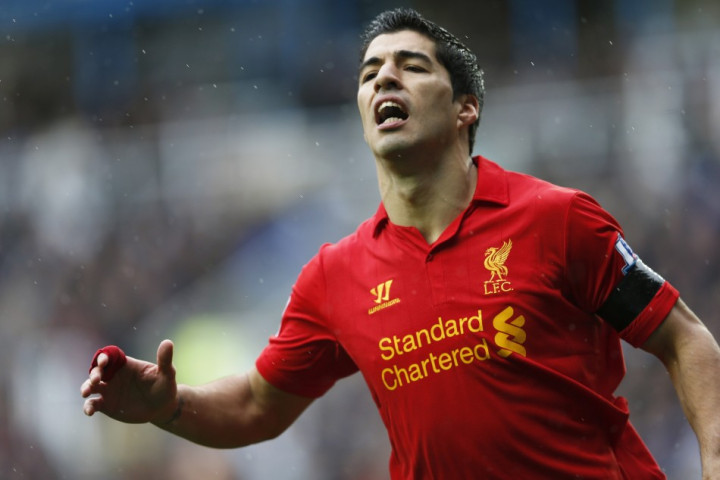 Arsenal striker Olivier Giroud insists he would not be daunted by the arrival of Luis Suarez at the Emirates and believes he could form a potent strike partnership with the wantaway Liverpool star.
The Gunners have already seen a bid of £30m rejected for the Uruguayan international who has made it clear that he wants to leave Anfield this summer after two and a half years at the club.
Liverpool maintain that they are not looking to sell their troubled forward, but the 26-year-old's persistent cries to leave the club could see the Gunners return with an improved offer, particularly as their efforts to sign Real Madrid striker Gonzalo Higuain fall under doubt.
Although the possibility of Suarez donning the Arsenal shirt has drawn a mixed reaction from fans, Giroud believes both he and the club could greatly benefit from the Uruguayan's presence.
"Luis Suarez is someone with whom I could have a good feeling with on the pitch," Giroud told L'Equipe.
"I'm for Suarez's arrival. I'm not afraid of competition."
Arsenal remain determined to bring an established forward presence to the club during this transfer window, sentiments echoed by chief executive Ivan Gazidis earlier this summer when he stressed the club were prepared to challenge Europe's elite in the transfer market.
But the Gunners' hopes of securing such a name are in danger of fading, as players of such calibre draw closer to being snapped up by other clubs.
Edinson Cavani, whom Arsene Wenger confirmed his interest in last January, has completed a move to Paris Saint Germain, while Chelsea appear to be the favourites to sign Wayne Rooney should he leave Manchester United this summer.
Argentine international Higuain has been the closest to a move to the Emirates, but comments made by Napoli club president Aurelio De Laurentiis this morning suggest the Serie A club have overtaken the Gunners in efforts to sign the striker.
While Liverpool remain determined to hold onto their top scorer for last season, Suarez may soon represent Wenger's last opportunity to bring an established world class forward to the club this summer.