Luis Suarez: Patrice Evra Racism Allegations Were False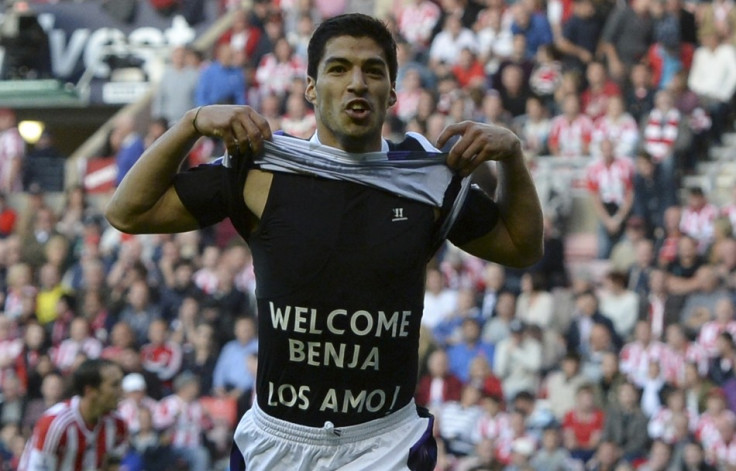 Liverpool star Luis Suarez has claimed the racism allegations made against him by Manchester United defender Patrice Evra were false.
The incident took place in October 2011 during the Reds' league fixture against United at Anfield. The Uruguayan international was accused of racially abusing Evra during the game, for which the Football Association (FA) found the striker guilty.
The FA handed Suarez an eight-match ban and fined £40,000. The South American claims that he was charged without real evidence in the racism row. However, he asked for forgiveness for biting Chelsea defender Branislav Ivanovic last season and Otman Bakkal while playing for his former club Ajax.
"Evra? That's what I'm talking about. It wasn't true. I was never accused with real evidence but that's something to forget," Goal.com quoted Suarez as saying.
"I've made two mistakes in my career. When I was playing for Ajax and I bit [Otman] Bakkal and what I did with [Branislav] Ivanovic [against Chelsea]. Those were my mistakes and I asked for forgiveness. All the other things were like a movie that people in England believed in."
The 27-year-old was in full praise of the Merseyside club and the fans for protecting him. In addition to this, Suarez thanked his teammates, particularly the Reds skipper Steven Gerrard and Liverpool manager Brendan Rodgers for providing support.
"As time goes on, I'm getting more mature and I think better things. If I don't feed the journalists, journalists can't speak about me. I'm now focused on football," the Uruguayan striker said.
"The club, fans and team-mates were great because it's hard to protect someone as they did with me with the way I was behaving. They all supported me, especially my team-mates. If you listen all the bad things, you get depressed, same thing for the good things.
"Gerrard is the guy at Liverpool. He's always backed me up. He talked to the press and me and that's something that will stay with me forever. Same thing for the coach [Rodgers], I have a great relationship with him," he added.
Suarez has been in prolific form this season, scoring 23 goals and managing eight assists in 21 league appearances this season. His brilliant partnership with Daniel Sturridge has seen Liverpool sit fourth in the league table with 53 points from 26 games, four away from league leaders Chelsea.
© Copyright IBTimes 2023. All rights reserved.