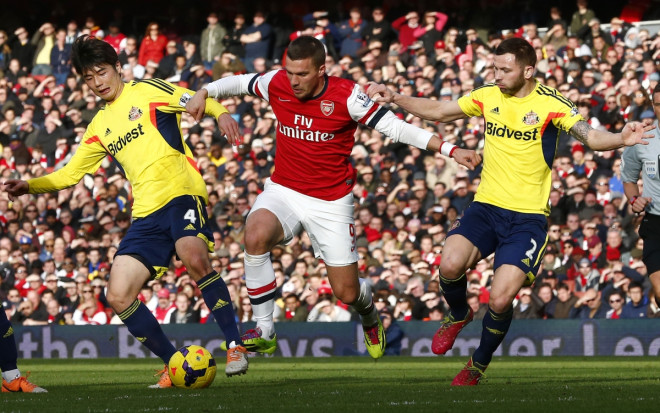 Lukas Podolski has revealed that he is looking forward to playing Tottenham Hotspur at White Hart Lane on Sunday, with the Gunners needing a win to keep themselves in the race for the Premier League Title.
The Gunners are currently third in the league and need a win to keep the pressure on Chelsea, who are seven points ahead, albeit having played a game more.
The Gunners have been through a poor run of form in recent weeks and are playing catch-up after leading the table for major parts of this season. A win here for Arsenal will be vital and give them a major boost ahead of their crucial tie against Chelsea next Sunday.
The Gunners' record in recent years against Spurs has not been great, with the north London club failing to win on their travels since 2007.
However, the Gunners have been a force to reckon with at home, already beating their north London rivals twice this season, in the league and the third round of the FA Cup.
The previous two visits to the Emirates before this season ended in a 5-2 smashing for the visitors but the Gunners will be hoping to better their record at the Lane, failing which may spell goodbye to their title credentials yet again.
Arsene Wenger will take inspiration from his side's comeback after losing to Spurs last season when they went on an unbeaten run to secure fourth place against all odds.
Podolski's form will be a major factor in the result with the absence of Mesut Ozil and Aaron Ramsey in the squad.
"I've always liked derbies. When I played in Munich, or Cologne or even here in Arsenal I always liked derbies because there's a special atmosphere and it's a special fight," the German told www.arsenal.com.
"We want to go there, get the three points and drive back home. This is important for us. We must fight for the club, for the fans and I think this is an important game so I look forward to Sunday now," he added.