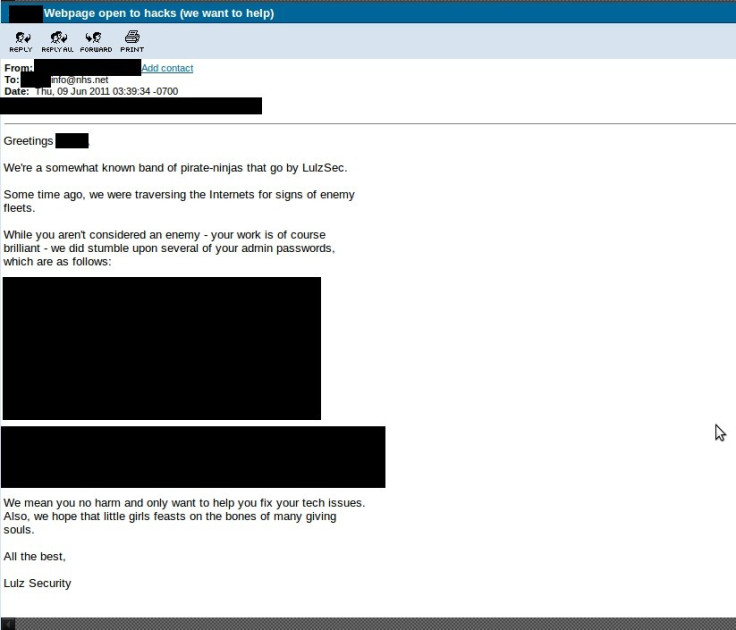 The hacker group LulzSec has reportedly sent an email to the U.K.'s NHS warning the healthcare service that its computer networks are vulnerable to cyber attacks.
The group, which has claimed responsibility for successful hacks on several big-name companies including Sony and Nintendo, sent an email to NHS administrators indicating it had found a way to bypass the service's network security.
As with its previous attacks, LulzSec subsequently posted a statement on its Twitter page outlining its reason for the email, "In celebration of little girls getting bigger bones, we're now emailing NHS and informing them of those admin passwords we took months ago."
Describing its members as "pirate ninjas" the group subsequently posted the email it had sent the NHS on its Twitter page:
"Greetings ... we're a somewhat known band of pirate-ninjas that go by LulzSec. Some time ago, we were traversing the internet for signs of enemy fleets. While you aren't considered an enemy - your work is of course brilliant - we did stumble upon several of your admin passwords."
The information taken was blacked out on the tweetpic the group subsequently posted. LulzSec went on to clarify that it meant the NHS no ill-will and that the attack was designed to help the service improve its security, "We mean you no harm and only want to help you fix your tech issues."
Speaking to the BBC the NHS has since downplayed the importance of LulzSec's email.
"This is a local issue affecting a very small number of website administrators. No patient information has been compromised," an NHS spokesperson told the BBC.
"No national NHS information systems have been affected. The Department has issued guidance to the local NHS about how to protect and secure all their information assets."
The recent email to the NHS isn't the first time the group has claimed to have noble intentions behind its hacks. Earlier this month the group targeted Nintendo claiming, "We're not targeting Nintendo... We like the N64 (gaming console) too much - we sincerely hope Nintendo plugs the gap."
Whether the attack will add to the number of people supporting the hacker collective is a matter of conjecture, though the group has already reported itself as receiving several sizable donations from private individuals.