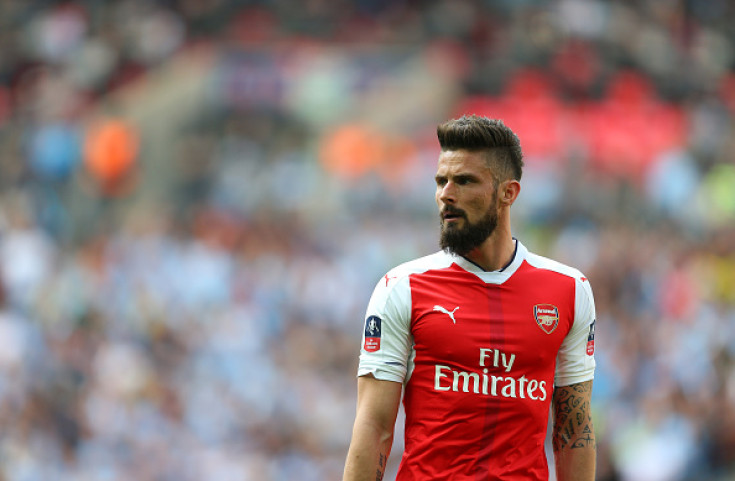 Lyon president Jean Michael Aulas has confirmed that there is interest from the Ligue 1 club for the transfer of Arsenal striker Olivier Giroud back to France, especially with a swap deal in the works, which could see Alexandre Lacazette make the move to the Emirates.
Giroud has expressed his dissatisfaction at a second string role at Arsenal, making only 11 starts in the league last season. He scored 24 goals in all competitions for club and country in the recently concluded campaign and wants more time on the pitch to keep his chances high of making the first team squad for the French national team in the World Cup scheduled at Russia next year.
Giroud was spotted in the Lyon airport earlier this week which sparked speculation over a transfer but he has also caught the eye of various Premier League clubs, with West Ham a likely candidate. However, Aulas insists that any deal to sign to sign Giroud will rest on the decision of Arsene Wenger, who recently revealed that the Gunners' striker is going nowhere this summer.
"There has been an approach, at some point, for Giroud," he told L'Équipe, as quoted by Get French Football news. "He is a boy that we like, who scores lots of goals and who has a lot of ambition for Russia.
"He told me personally that he wanted to take his time, that things were not completely defined with Arsenal, that he had a secret hope that he would be the number one striker next season.
"The key is Arsene Wenger. We are watching. We will try to very quickly sign a top European attacker."
Meanwhile, the Gunners are reportedly close to completing a deal for Lacazette, with the striker likely to make the move to north London in the coming days. The north London club are also close in pursuit of Kylian Mbappe, with Wenger having personally spoken to the Frenchman to convince him to consider a move to Arsenal.