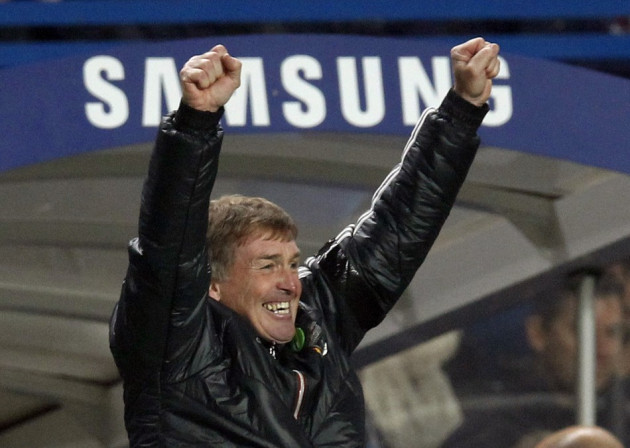 Kenny Dalglish admits Liverpool's impressive recent form has given him a selection dilemma ahead of Monday's trip to Fulham.
The Reds will attempt to equal a club record sequence of seven away wins with victory at Craven Cottage tonight, a feat last achieved in 1988.
The Liverpool manager described his side as a "work in progress" after two wins at Chelsea and a promising display against Manchester City.
Liverpool may have laboured for points at Anfield this season, but away from home the club are vying to equal their best sequence of results. Dalglish suggested the discrepancy between home and away performances was down to good fortune.
"The players have gone about their work the same way away as they have at home, but we haven't got the result our performances have deserved at Anfield," said Dalglish. "We are still a work in progress, but away from home, maybe we've had at times that little bit of luck."
Dalglish's pragmatic assessment is in line with his attempts to downplay any optimism around Liverpool's run. He was quick to refute claims the 1-1 draw with City represented a positive result for the club that would heighten their chances of qualifying for the Champions League.
"We are plodding on. How the players go about their work and their quality will give them their reward." He said. "We've beaten some good teams and we've deserved it on the day. We are still a work in progress and we will continue to work.
"We have to remember how we got those rewards - by working for each other and playing for each other.
"If we stand beside each other we have a better chance. We are much more difficult to beat as a team rather than as an individual."
Liverpool produced on of their best away performances since Dalglish's return at Craven Cottage last season, a 5-2 win that included a hat-trick for Maxi Rodriguez.
The Argentine has regained favour in the past month, scoring in both wins against Chelsea and Dalglish said he is tempted to start the player more often.
"I'm tempted to play Maxi in every game. He has a fantastic recent goal scoring record," the Liverpool manager added. "He is an intelligent footballer and he must have been some player five years ago when he was in his prime.
"He might be getting a bit towards my age now [Rodriguez is 30, Dalglish is 60] but he is still a clever, intelligent footballer.
"He knows how to play and he knows how to finish. He's just and intelligent footballer who understands the game on and off the pitch. The same as everybody should do. The squad is more important than the individual."
Meanwhile, Dalglish is confident his squad is strong enough to ensure the loss of Lucas Leiva will not undermine their season.
The Brazil midfielder faces six months out with anterior cruciate ligament damage but the Liverpool manager hopes the player's absence will spur other squad members to rise to the challenge.
"We'd much rather have Lucas fit and well, but we don't, and it's up to us to accommodate that and make sure that we can handle it," Dalglish said. "That's one of the tests you get at a football club. Someone's always going to be missing. We feel sorry for Lucas, not for ourselves.
"We've got adequate replacements. We will have a look and make a decision. Wee Jay [Spearing] has done really well since I came in. we trust in him and we believe in all of them."