Any guess which operating system platform or application was most vulnerable in 2015? The reply is none other than Apple's Mac OS X, with 384 types of distinct vulnerabilities, almost three times more than what was found in 2014.
The iOS, which powers Apple's iPhone, iPad and iPod touch lineup, was not too far behind. According to CVE Details using data provided by the National Vulnerability Database run by the US government, the iOS occupied the second position, being a victim of 375 types of vulnerabilities.
Adobe Flash Player, which recently received security updates to squash out the critical vulnerabilities that could allow attackers obtain access to the affected system, came third with above 300 different vulnerabilities.
Adobe's Air Sdk and Air with total 246 security flaws each came joint fourth. Microsoft's Internet Explorer, Google's Chrome, Mozilla Firefox, Windows Server 2012 completed the top ten with over 150 flaws. In 2014, by comparison, Microsoft's IE ranked first with 243 flaws, followed by OS X, Linux Kernel, Chrome and iOS.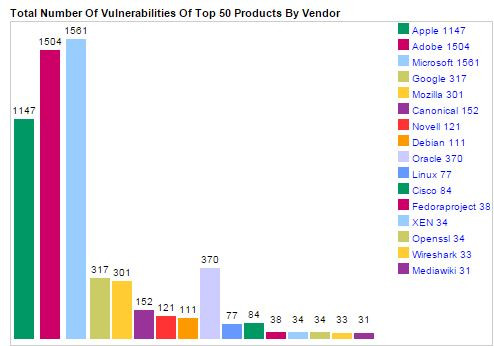 Among the vendors, Microsoft headed the table with 1,561 security holes, whereas Adobe and Apple were in the second and third place respectively with 1,504 and 1,147 vulnerabilities respectively. Google and Mozilla completed the top five slot.
The figures suggest a significant surge in vulnerabilities compared to last year, when Microsoft products were affected with 524 flaws, followed by Oracle (465) and Apple (407).