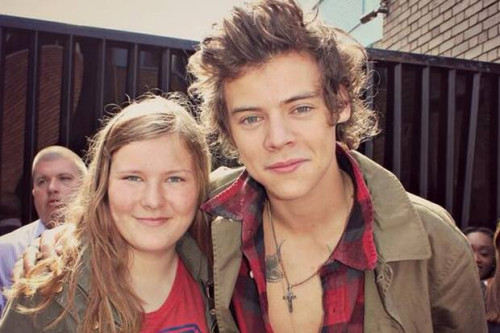 A devoted One Direction fan has collapsed and died at a bus stop outside her school.
Magdalena Szablinska, an A-grade student from St Mark's Catholic School in Hounslow, west London, is believed to have suffered a sudden cardiac arrest.
Paramedics were unable to revive her.
The 16-year-old, affectionately known as Magda, had arrived in London eight years ago unable to speak English but quickly adapted to life in the UK.
"She was a really special girl, so full of life and good humour," headteacher Paul Enright said.
"She was a bright girl and picked up English very quickly. We were expecting her to get very good A level grades. She had tremendous potential."
The sixth form pupil ran the @1DCrew Twitter and had been photographed with the band dozens of times.
Friends and fellow fans of the band described her as a "truly dedicated Directioner" and posted tributes online.
According to friends, Harry Styles had promised to follow her Twitter, so some fans are asking him to make good on his promise.
Her father Tadeusz described her as an "angel" and said that his family were still struggling to come to terms with her tragic death.
"We are trying to come to terms with this. She was an angel and everybody has said so. So many people have contacted us to pay their respects, she was so loved," he told the standard.
"She liked One Direction and had so many friends on Facebook, she loved school and was very popular and doing very well, she was our star."