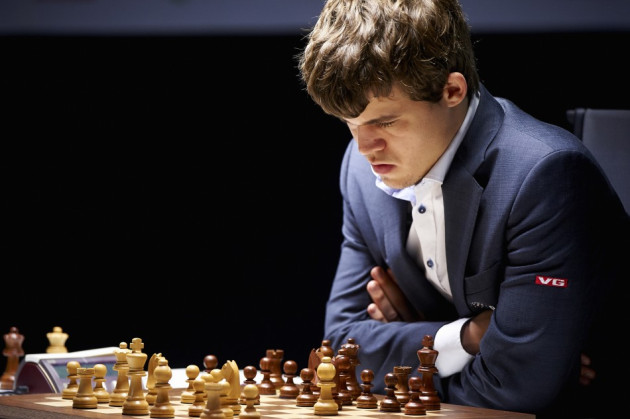 Magnus Carlsen, 22, is widely regarded as having the potential to become the greatest chess player of all time. Only 13 when he became a grand master, at 18 he became the youngest player ever to be given the number 1 ranking by FIDE, the international chess organisation, a position he has held ever since.
Carlsen has now taken a 4-2 lead in his World Championship contest with Indian grandmaster Viswanathan Anand, and most observers expect him to claim victory and cement his status as the world's top player.
His youth and pop star good looks could also propel chess back into the headlines in a way not seen since the height of the Cold War.
With the contest moving into its climactic stages this week, we look back at five chess legends whose achievements Carlsen will have to surpass if he wants to be considered the greatest of them all.
Bobby Fischer
Many believe that US-born Bobby Fischer's most difficult opponent was not one he faced over a chess board, but himself.
After beginning to compete at 14, Fischer won eight US Championships, and claimed an 11-0 victory in the 1963-64 competition, the only perfect score in the tournament's history.
After winning 20 straight matches in the 1970 Interzonal competition, Fischer faced the Soviet Union's Boris Spassky in the 1972 World Championship in Iceland. Billed as the Match of the Century, Fischer won the encounter with 12 wins to Spassky's eight, ending 24 years of Soviet domination in the competition.
Having failed the agree the terms on which he would defend his title with FIDE, Fischer all but retired from chess and became a recluse, re-emerging briefly in 1992 to play a show match against Spassky, and claiming the $500,000 victor's purse.
His final years were marred by controversy and signs of mental illness, as he made a series of rambling anti-Semitic statements and was barred from entering his home country over having played the Spassky rematch in Yugoslavia, which was under embargo at the time.
He died in 2008 in Iceland, where he had been granted political asylum.
Chess aficionados will prefer to remember his elegant, attacking style of play, whose beauty one critic has described as lying "in its ruthless efficiency".
Jose Raul Capablanca
Nicknamed 'The Human Chess Machine' for the simplicity and speed of his style, Capablanca not only has a claim to be the greatest player of all time, but is also arguably the finest ever player of Blitz Chess, in which players are only allowed five minutes per match.
He defeated the champion of his native Cuba aged only 13, and in 1906, at 18, crushed US champion Frank Marshall 15-8.
He then challenged reigning world champion Emanuel Lasker to play him for the title, but the German's conditions were regarded as so unfair that the match was never played. After finally agreeing conditions in 1921, Capablanca defeated Lasker without losing a single game.
He was World Champion from 1921 to 1927 and in 1922 played 103 opponents simultaneously, defeating 102 and drawing against one.
Capablanca lost his title to Alexander Alekhine, and despite coming out of retirement in 1934 in a bid to reclaim it, never won the honour again.
Alexander Alekhine
By his early 20s, Alekhine was considered one of the world's most formidable players, having risen to the top of the game in his native Russia by the age of 16.
Determined to win the World Championship from Capablanca, he left Russia in 1921, never to return and spent 10 years attempting to scrape together the $10,000 stake needed to take on the Cuban, playing exhibition games and even blindfold matches before a businessman provided him with the sum.
To the shock of the world Alekhine won the epic 34-match encounter, claiming six victories to Capablanca's three and drawing 25 times. It stood as the longest ever chess match until the 1984 Kasparov and Karpov encounter.
Alekhine held on to his title in 1929 and 1934, playing in an aggressive, imaginative style, then regained it in 1937, despite growing alcoholism dulling his powers, before international competition was halted by the outbreak of World War Two.
He kept his title until his death in 1946, but was frozen out of the chess (and wider) world after the war for alleged Nazi collaboration.
Alekhine is also famous as a chess theorist, devising a range of chess openings and a number of endgame studies.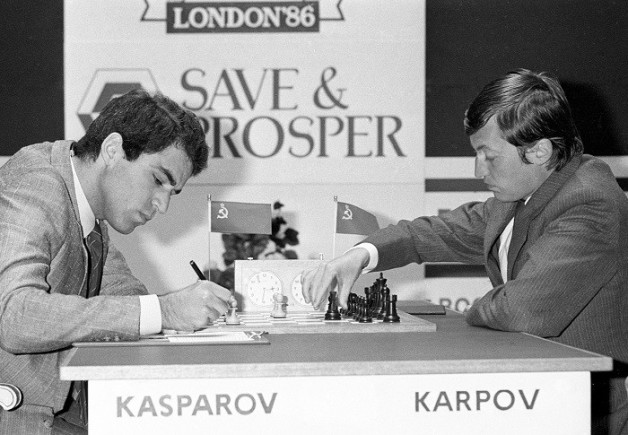 Garry Kasparov
The title of youngest ever World Champion is currently held by Russian Kasparov, who won his first title in 1985, aged 22, after claiming victory over fellow Russian Anatoly Karpov, who had narrowly defeated him in an epic encounter the previous year.
He successfully defended his position until 1993, when a dispute with FIDE led to him forming his own breakaway championship, the PCA. Though he officially lost his title at this point, many regard him as having been the real world champion until 2000, when he lost to Vladimir Kramnik.
He was ranked world number one almost continuously from 1986 to 2005, when he retired, saying that he had no more ambitions left in the sport.
His undefeated run in competitions between 1981 and 1991 and his dense, technical style of play earnt him a reputation as all but unbeatable.
After retiring from chess Kasparov became involved in politics in Russia, and recently applied for Latvian citizenship, saying he was quitting his native country over the government's corruption and abuse of human rights.
Kasparov's all-time high Elo rating of 2851 was only recently beaten ... by Carlsen, who in January attained a rating of 2861.
Anatoly Karpov
Kasparov's arch-nemesis, Anatoly Karpov has an incredible 160 first place tournament finishes to his name, and was World Champion from 1975 to 1985 then controversially from 1991 to 1999, when Kasparov formed his own championship in protest at FIDE rules.
After learning the game age four, Karpov joined Mikhail Botvinnik's legendary chess school aged 12, and by 15 was tied with Boris Spassky as the youngest ever Soviet grandmaster. He won the World Junior Chess Championship in 1969, and in 1974 beat Spassky for the right to face Fischer in the 1975 World Championship.
When Fischer pulled out of the match, Karpov won the competition by default, then went on to claim victory in nine straight World Championships.
His epic 1984 match against Kasparov is widely regarded as one of the greatest and most gruelling in chess history. After 48 matches played over two months the match was halted over fears for the health of the players, and Karpov declared winner, having won five, lost three and drawn 40.
He lost his title to Kasparov the following year, and unsuccessfully challenged his arch-rival three times over the next five years to regain the championship.
In 1993, following Kasparov's split from FIDE, Kasparov once again became champion, and renounced his title in 1999, himself taking issue with FIDE rules.
Though he still occasionally competes, he has largely renounced the game to become a politician and social campaigner in Russia.