A Malaysia Airlines flight from Kuala Lumpur to Hyderabad had to circle in the air for four hours to burn fuel due to a fault, before returning to Kuala Lumpur where it landed safely. The airline stressed that Flight MH198 had developed a fault with its auto-pilot system and discounted rumours it had been on fire.
In a statement the airline said: "Malaysia Airlines flight MH198 of 13 September 2014 which departed Kuala Lumpur to Hyderabad at 10:20pm made an air turnback due to an auto-pilot defect. Claims circulating in social media that the aircraft was on fire was untrue. The defect did not have any impact on the safety of the aircraft or passengers, however as a precautionary measure, the operating Captain decided to turn back."
The statement says the plane landed safely and has been rescheduled to depart Kuala Lumpur at 12:00pm.
"Malaysia Airlines regrets the disruption to its guests' travel plans and reiterates that safety of its passengers remains the utmost importance to the airline. The airline also appreciates the public's cooperation to refrain from making speculations to avoid discomfort among air travellers."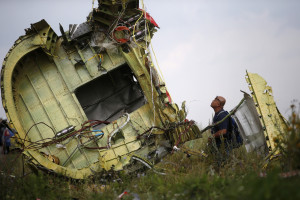 Malaysia Airlines has been hit by two major tragedies this year. On 8 March Flight MH370 from Kuala Lumpur to Beijing disappeared without a trace, with the loss of all 239 people on board. It is now thought the plane crashed into a remote section of the Indian Ocean, although the cause of the tragedy is unknown.
On 17 July Flight MH17 between Amsterdam and Kuala Lumpur was shot down over eastern Ukraine with the loss of all 298 passengers and crew.
The Dutch Safety Board concluded the plane "broke up in the air probably as the result of structural damage caused by a large number of high-energy objects that penetrated the aircraft from outside". It is still unclear who shot the plane down, as Ukraine and pro-Russian rebels blaming each other for the tragedy.
Malaysia's national airline has been badly affected by the tragedies. In the three months to the end of June – prior to the loss of MH17 – it announced losses of £58.7m ($95.5m, €73.7m), chief executive Ahmad Jauhari Yahya has warned of worse losses to come: "The full financial impact of the double tragedies of MH370 and MH17 is expected to hit Malaysia Airlines in the second half of the year."