Mali Islamist Rebels Seize Diabaly Town Despite French Airstrikes [VIDEO]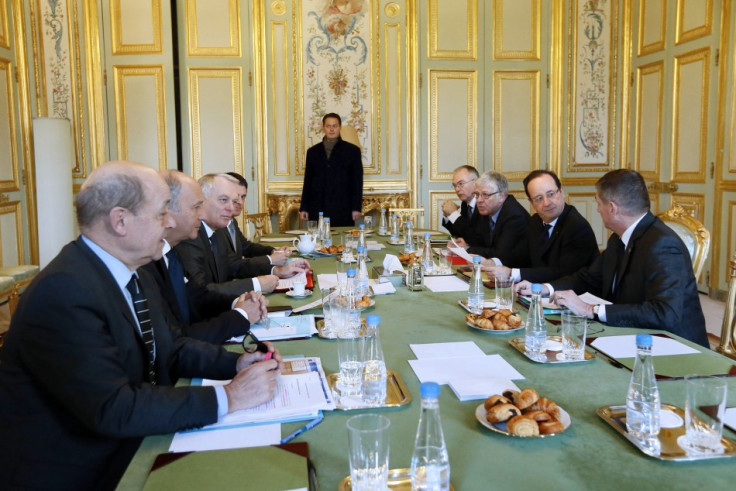 Islamist insurgents in Mali have taken over the small town of Diabaly in the middle of the country despite a French aerial offensive.
French defence minister Jean-Yves Le Drian confirmed in Paris that rebels had gained more territory and got closer to the administrative capital of Segou.
Rebels "took Diabaly after fierce fighting and resistance from the Malian army that couldn't hold them back," Le Drian said. The al-Qaida-linked insurgents are now only 250 miles from the country's capital, Bamako.
The Malian military is in disarray, despite French fighter jets dropping bombs in the central region of Alatona, after a convoy of Malian troops was seen retreating. They were 24 miles southeast of Diabaly when they were seen.
Earlier on Monday, French war planes pounded Timbuktu and Gao in northern Mali.
The bombardment of the rebels' northern strongholds follows soon after a French airstrike helped the Malian army recapture the town of Konna, which had been taken by the Islamists just days before.
French diplomats were encouraging other African nations to send troops to fight the Islamic extremists.
Ethnic Tuareg separatists announced that they were poised to help the French military by combating the Islamist rebels in the north.
"We're ready to help, we are already involved in the fight against terrorism," Moussa Ag Assarid, a representative of the Azawad National Liberation Movement (MNLA), said.
A spokesman for the MUJWA Islamist group, one of the main factions in the rebels, said France had "opened the gates of hell" for all its own citizens with the air raids.
"She has fallen into a trap which is much more dangerous than Iraq, Afghanistan or Somalia," Oumar Ould Hamaha told Europe 1 radio.
"They should attack on the ground if they are men. We'll welcome them with open arms."
The MNLA, which is predominantly secular, has played a key role in Mali's recent history.
The movement launched a rebellion in January 2012 that caused a military coup in Bamako two months later. Islamist groups exploited the political vacuum that ensued, seizing control of the north in April 2012.
Initially allied to the Islamists, the MNLA dropped out as Islamic law was imposed across the area. It began peace negotiations with the Malian authorities in December.
Many experts believe the Tuareg's rebellion in northern Mali was hijacked by Islamists, creating a safe haven for al-Qaida-backed militants.
The feared Al-Qaida in the Islamic Maghreb (AQIM), which has its roots in Algeria and is an offshoot of the terrorist group founded by Osama Bin Laden, found a territorial base there.
During MNLA and Islamist control of northern Mali, a more conservative style of Islam has been imposed, with measures such as the separation of girls and boys in schools, whipping of those who were found drinking alcohol and smoking, and a ban on soccer and television.
© Copyright IBTimes 2023. All rights reserved.