A selfie possibly of Malia Obama, the first daughter of the US, has mysteriously surfaced on the internet.
This is probably the first Obama selfie leak and the picture has gone viral on social media.
The image, in which Malia or possibly her doppelganger appears to be wearing a Pro Era t-shirt, was posted on Instagram by the Pro Era rap crew who were promoting their official merchandise, Gawker reported.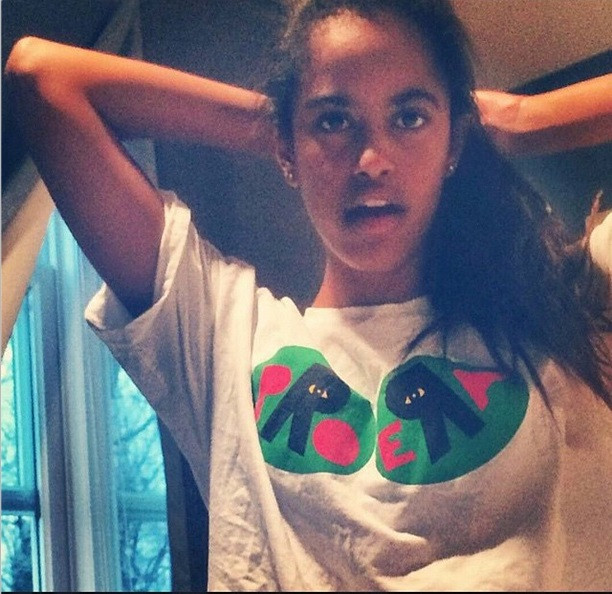 If the picture is real, then Malia's latest image on social media will be a rare appearance especially after her mother, First Lady Michelle Obama's strict social media restrictions imposed on the Obama daughters.
In the picture, the 16-year-old daughter of President Obama can be seen with her hands behind her head and casually looking into the camera with an open pout.
Pro Era is an American hip hop collective originating from Brooklyn, New York and Verge speculates that this is good publicity for the apparel brand as the first daughter is wearing one of their t-shirts.
It is not clear who uploaded the picture or whether Barack Obama's daughter has a secret Instagram account which was hacked. However, a Pro Era member told Gawker that the 'groups got the image from a mutual friend Maria and provisional members."
"Did she take it to send to Noah J., the most popular senior at Sidwell Friends? Did you know Malia Obama has double ear piercings? Does it have a filter? Was it taken on her laptop? Or was it taken on Sasha's laptop because Malia lost her laptop privileges after being put on punishment for private reasons?" the website speculated on the origin of the Obama selfie.
Malia Obama's Instagram HACKED! http://t.co/Hx6toKV53s

— Reddit World News (@WNews_Reddit) January 6, 2015
Malia Obama reps New Era in Instagram photo. @joeyBADASS Details http://t.co/Pu3WECPgbF pic.twitter.com/txCbu2BTG5 — HipHopEarly.com (@HipHopEarly) January 5, 2015
Anyone else feel this might be a bit much? - Is this the first leaked Instagram from the Obama family? | The Verge http://t.co/TOh77UX0c0

— Darth Geekonius (@DarthGeekonius) January 6, 2015
Obama Selfie Leak: Malia Obama Instagram Selfie Posted Intentionally Or Was It Leaked? http://t.co/CBerVzyXah via Heather Tooley — All Trends IT (@All_Trends_IT) January 6, 2015