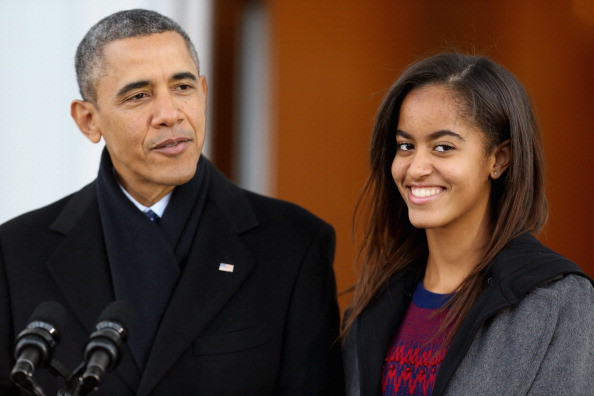 A fake story claiming that US President Barack Obama's teenage daughter Malia is pregnant has been circulating online.
The story was posted on Empire News, a satirical website, which is well known for publishing false stories with sensational headlines.
The bogus report read: "In what promises to be the biggest White House scandal since intern fellatio, President Barack Obama's daughter, 16-year-old Malia, has confirmed that she is pregnant.
"Sources say Malia is now in her second trimester. Mother and First Lady, Michelle Obama, says that although she will be a grandmother much younger than she planned, teen pregnancy runs in the family."
The satirical article carried made-up quotes from Malia, gushing about pregnancy and future plans.
There is no truth to the story. Empire News previously falsely reported that Charles Manson has been granted parole.
Many Twitter users expressed their disappointment over the website's fake story.
This comes after Elizabeth Lauten, communications director for congressman Stephen Fincher, criticised Obama's daughters for wearing short skirts and making faces during a Thanksgiving event. The Republican staff member has since resigned.
Meanwhile, former first daughter Jenna Bush Hager defended Sasha and Malia during an interview on Andy Cohen's Watch What Happens Live.
"I'm fiercely protective of them, obviously," the 33-year-old Today correspondent said. "I don't think that it's easy. It's not a job that they wanted...I had a hard time [growing up in the White House], but it's also a privilege."