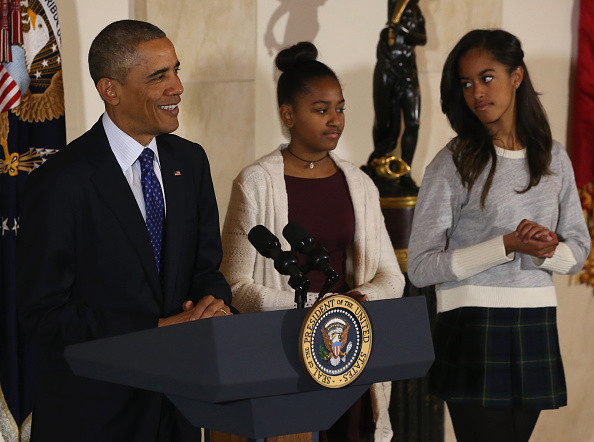 A Republican staff member has quit after she was heavily criticized for her derogatory remarks about the US President Barack Obama's daughters, Sasha and Malia.
After seeing a photo of the Obama girls at the annual presidential turkey pardoning, Elizabeth Lauten, communications director for Rep. Stephen Lee Fincher took to Facebook on Friday and said, as reported by The Washington Post: "Dear Sasha and Malia, I get you're both in those awful teen years, but you're a part of the First Family, try showing a little class.
"Then again your mother and father don't respect their positions very much...so I'm guessing you're coming up a little short in the 'good role model' department. Dress like you deserve respect, not a spot at a bar. And certainly don't make faces during televised public events."
Despite several media outlets scrutinizing Sasha and Malia's expressions at the turkey pardoning event and some even mocking the entire White House tradition, Lauten was accused for taking it all too far.
Following the online backlash in the aftermath of her Facebook remarks that went viral, Lauten took to Facebook within hours of posting her initial comments.
"When I first posted on Facebook I reacted to an article and I quickly judged the two young ladies in a way that I would never have wanted to be judged myself as a teenager. After many hours of prayer, talking to my parents, and re-reading my words online I can see more clearly just how hurtful my words were," said Lauten.
Lauten confirmed her resignation to the Washington Post on Monday morning.
Republican National Committee communications director Sean Spicer took to Twitter not only to condemn Lauten's comments but also raise his concerns at the ridiculous nature of the mainstream media's coverage of the entire episode.