Man Escapes Locked Coffin While Skydiving from 14,500 feet [VIDEO]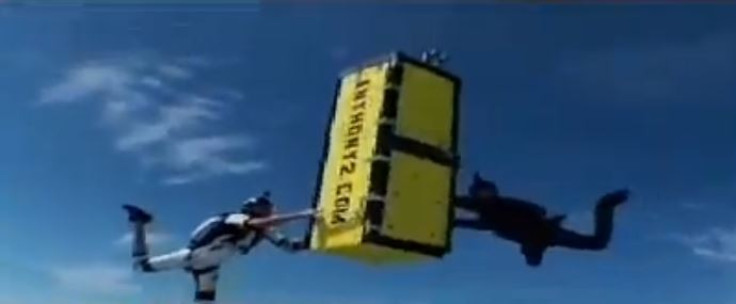 An American escape artist has set a new record after parachuting to safety from a 14,500ft skydive. The catch - he broke out of a locked coffin while in mid-air.
Hundreds watched Anthony Martin's stunt, as the coffin containing the escape artist hurtled from the skies, swinging wildly from side to side while falling to ground at 130 miles per hour. Martin tumbled out of his coffin and floated to safety in a field, 70 miles southwest of Chicago.
According to reports, Martin was placed inside the coffin with his hands cuffed to a belt and his right arm chained to the inside of the box. In addition, locksmiths scrambled the locks to ensure a standard key could not be used.
"I praise God it all went good," the 47-year-old said after the jump, adding, "It's good to be here. It's good to be alive."
He later told Associated Press: "I didn't feel any force, but what I felt was a lot of jostling. It seemed to me like I had a glimpse of the ground for a second then it (the door) came back and I had to give it another push."
The feat also involved two other skydivers, who jumped with Martin and the coffin, to help keep the box stable during the fall.
Incidentally, this is Martin's second attempt at this stun. The first was 25 years ago.
Birth of an Escape Artist
After the jump, Martin said he began learning escape tricks when he was six years old. That was when, he revealed, he began to lose faith in magic tricks.
"I thought that skill and knowledge could surpass trickery and magic. At 10 I had pretty much started to specialise in escapes. By the time I was 13, the sheriff was locking me in his handcuffs. And I was getting out," he said.
And as proof of Martin's skill, this is not the the only high-risk stunt he has successfully completed. When he was 11 years old, he jumped from into a lake with his hands cuffed behind his back. He was also locked into a cage and lowered into a lake in sub-zero conditions - he emerged free 105 seconds later.
"It was very, very cold. It doesn't take long for your fingers, even with gloves, to get numb and lose effectiveness ... you have to work very quickly," Martin said of that trick.
Check out a video of Anthony Martin breaking free of a coffin and skydiving from nearly 15,000 feet:
[Video credit: YouTube/ChristianMantello]
© Copyright IBTimes 2023. All rights reserved.