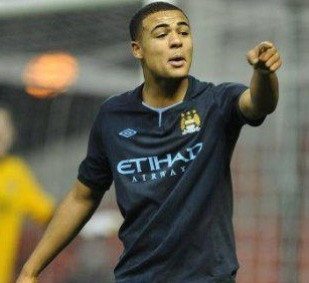 Police are investigating if Manchester City football starlet Courtney Meppen-Walter and another driver were racing their cars just moments before a death crash killed a mother of two and her brother.
Kulwant Singh, 32, and his sister Ravel-Kaur Singh, 37, died at the scene of a collision with a powerful Mercedes in north Manchester.
Mrs Singh's two teenage children, who were passengers in Mr Singh's car, suffered serious head injuries and were taken to a Salford hospital, where they remain.
England under-17 defender Meppen-Walter was arrested, alongside the 19-year-old driver of a grey Volkwagen Golf, on charges of dangerous driving.
It has been confirmed by police that they want to know if the Mercedes and Volkswagen were racing at the time of the incident.
A Greater Manchester Police spokesman told IB Times: "That is one line of enquiry for us. There are several lines of enquiry which we are pursuing and that is definitely one of them."
Tributes have been paid to the deceased pair.
Joginder Singh said: "He was a nice guy and when I heard about this accident I felt very sad. He was a wonderful guy," he said.
Meppen-Walter and his fellow defendent were bailed by police.