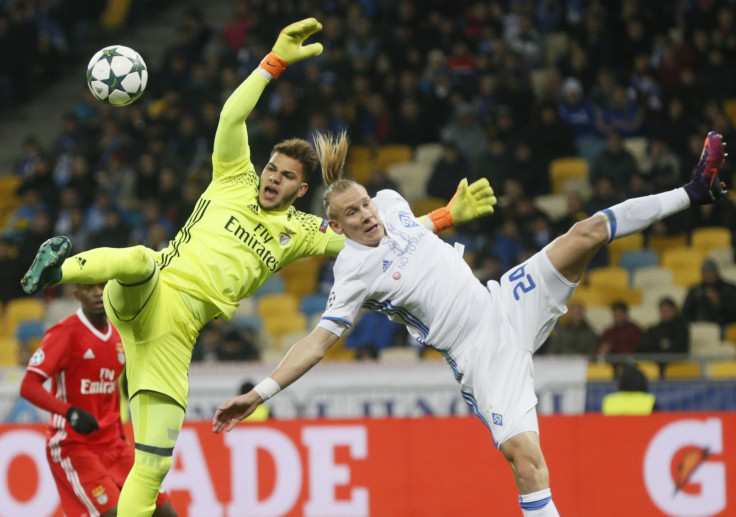 Jose Mourinho is set to go toe to toe with Manchester City manager Pep Guardiola in the race for highly rated Brazilian stopper Ederson, who has had a brilliant campaign for Benfica. Manchester United are in search of a capable stopper with uncertainty over David de Gea's future at the club, who is reportedly pushing for a move to Real Madrid.
The Mirror reports that both clubs are keeping a watch on Ederson and are willing to do everything in their power to land the capable stopper, with a goalkeeper top of their priority list this summer. City are almost certain to bring in a replacement with Joe Hart, Claudio Bravo and Willy Caballero all flattering to deceive in their first season under the former Barcelona manager.
The 23-year-old has been among Benfica's best players and Mourinho has Jon Oblak in his sights should he fail in their bid to sign the keeper. Ederson is a capable shot stopper but there are doubts over his discipline, having already been shown a red this season in the league against Arouca after a dangerous tackle outside the box left the opposition player in tatters.
Meanwhile Guardiola has claimed that City cannot be more complacent next season after possibly ending the season in third spot, the first time outside the top two in his managerial career. The Spaniard is set to roll in the cash this summer to recruit the best players and leave no stone unturned in his bid to claim the Premier League title.
"I learned that you need to score more goals, basically that. Especially at home, we dropped a lot of points and we did not score enough. So we have to play a little better and use more chances to score goals," the manager told Manchester City's official website.
"We have the quality of players to score goals. For Sergio, there's no doubt about that. For Gabriel, there's no doubt about that. Kevin can score fourteen or fifteen goals a season. Especially at home, for the chances we create, we have to score more goals. Our game has become better and better and next season we will be better."