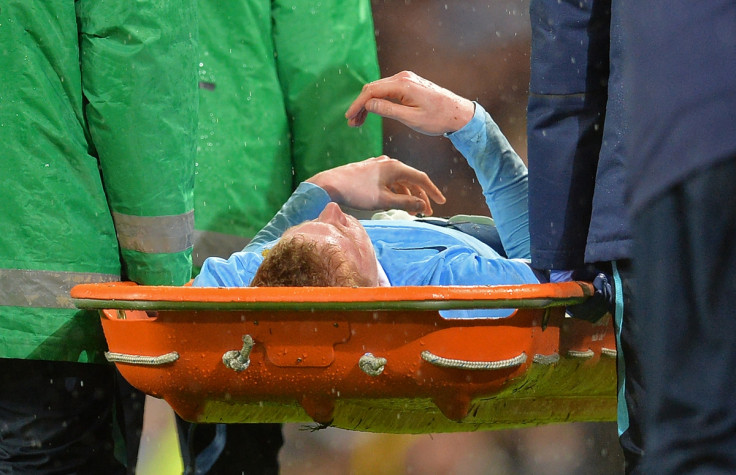 Manchester City manager Manuel Pellegrini fears Kevin de Bruyne may have suffered a medial ligament injury after being stretchered off in the Capital One Cup semi-final victory over Everton. De Bruyne, 24, was instrumental in City's triumph, coming off the bench in the second half to score and set up another to help his side seal a 3-1 victory on the night and a 4-3 aggregate win.
City will now meet Liverpool in the final on 28 February but the evening was marred somewhat in the dying minutes of the match when the Belgium international was carried off in a leg brace after an awkward fall. Speaking to Sky Sports after the game, Pellegrini explained there was immediate concern over the midfielder, who will undergo further scans in the coming hours.
"It is difficult to say right now," Pellegrini said. "The doctor thinks that it could be the medial ligament. But I think that tomorrow we will have more news about him but it is not a nice injury."
The City boss added in his press conference: "We will see about De Bruyne tomorrow. It is difficult to know at this moment. It is not cruciate ligaments so I am optimistic."
Everton, who led 2-1 from the first leg, took the lead on Wednesday night through a brilliant solo effort from Ross Barkley. Just six minutes later, however, Fernandinho equalised on the night when his shot deflected off Leighton Baines into the back of the net.
De Bruyne entered the fray after 66 minutes to replace Yaya Toure and had an almost immediate impact, slotting home Raheem Sterling's cross from 12 yards out. Everton however will feel aggrieved with replays showing Sterling had carried the ball out of play before crossing into the box.
With the game tied at 3-3 on aggregate, Sergio Aguero sealed his side's place in the final, steering a wonderful header in the bottom corner after an excellent cross from de Bruyne.