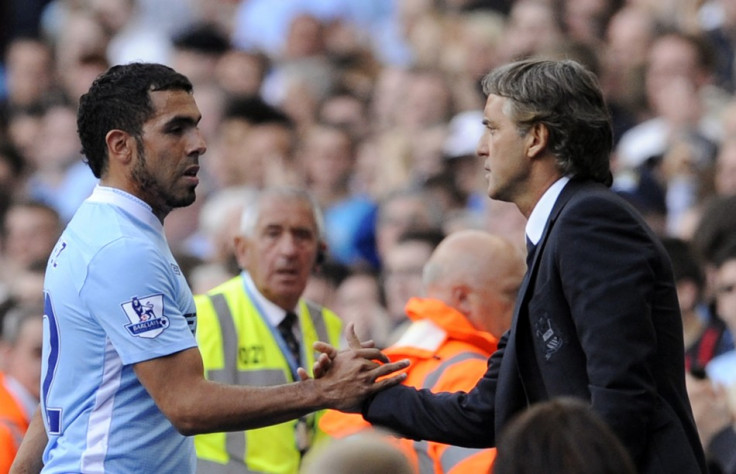 The Times claim Carlos Tevez is angry and upset at being "singled out" by Manchester City following the Argentine's latest argument with his employers.
The controversial former Manchester United striker allegedly directly contradicted Roberto Mancini's demands by failing to appear for training at the Eastlands club's Carrington training complex on Wednesday morning.
Instead Tevez was pictured arriving in Buenos Aires on Tuesday and although he was preparing to fly back from Buenos Aires last night, The Times reports that Manchester City have spent the convening period consulting their lawyers, in an effort to address their troublesome former captain's perceived breach of contract.
Tevez is said to be angry and upset by the latest unsavoury episode in the increasingly fractious relationship between the two parties.
A source close to the 27-year-old told The Times he feels he is being "singled out" for unfair treatment, arguing he was given an "ambiguous answer" by Manchester City coach Fausto Salsano about the club's instructions. Tevez also claims he made several endeavours to contact Roberto Mancini, prior to flying home on Monday night.
The Premier League leaders strenuously deny Tevez's latest counterclaim and the behaviour of the player has seemingly exasperated the chief executive of the Professional Football Association, who recently came to his aid following his previous rule breach.
"I am disappointed and concerned," Gordon Taylor told Sky Sports News yesterday evening.
"To go out to Argentina when - as I have been informed - he was clearly told not to because they needed to work on his fitness and to blatantly ignore that instruction starts to affect any chance of a reconciliation now."
The player's ill-advised actions come just a few days after Mancini offered Tevez a potential reprieve.
The Argentine was told an apology for refusing to warm up during their defeat to Bayern Munich in the Champions League in September would see all his indiscretions forgiven.
Taylor was called in as a mediator during that incident and successfully negotiated the halving of Tevez's punishment to two weeks wages. He now concedes Tevez has done himself no favours.
"I have been accused of defending the indefensible. The lad is digging himself a hole and it is going deeper." Taylor concluded.
The Times claim Manchester City have informed Tevez to attend a meeting on Monday, when the player's potentially decisive actions will be addressed.