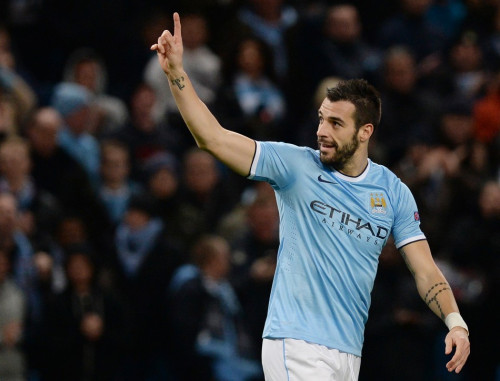 Manchester City striker Alvaro Negredo believes that Arsenal are still the strongest team in the Premier League despite their 6-3 defeat at the Etihad.
Arsenal have been the most consistent team so far this season, as they top the Premier League with 11 victories, two draws and three defeats. However they failed to secure a victory against Manchester City last weekend and Manuel Pellegrini's side are now just three points behind them in the table.
Negredo thinks that Arsenal deserve their lead as City have struggled away from home, winning just two of their first eight games away from the Etihad.
"Arsenal are on the top on their own merits. They had a bad game against us but they have been the best because although we are playing great at home we are not doing so well away," Negredo told Spanish radio station Cope.
The Spanish hitman also claims that he is not concerned about the Champions League draw although Manchester City will have to face Barcelona, one of the favourites to win the title.
"I am not really displeased about the tie against Barcelona. I believe that the draw has been bad for both sides but it is going to be a nice game.
"They are very dangerous because although people say that they have vulnerabilities they are winning almost every game. But we are also in a really good moment. Let's see how we both are in February [for the first game at the Etihad]".
Negredo has made a great impact in England in his debut season. He has already scored 13 goals in 23 games since arriving from Sevilla in the summer - forging an impressive partnership with Sergio Aguero to become Pellegrini's first choice pair ahead of Edin Dzeko and Stevan Jovetic.
Now the Spaniard will have to cope with playing without Aguero as the Argentine forward will be out of action for at least a month. Negredo believes Aguero's injury is a blow for him and for the whole team.
"It is bad for me and for all the team. He is a really important player for us. We have players that can replace him but Aguero is Aguero."