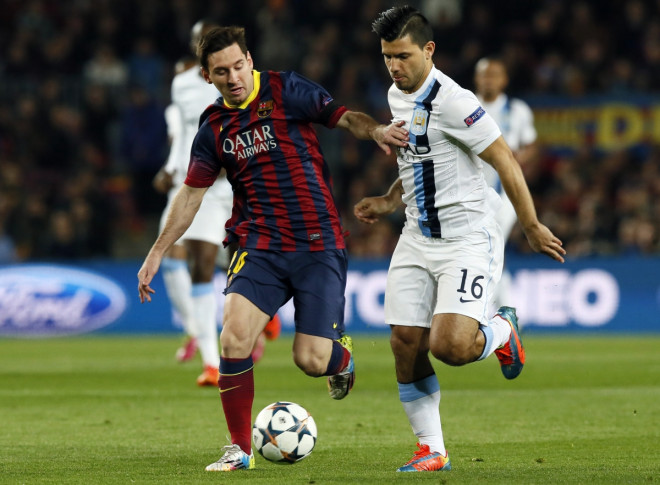 Manuel Pellegrini has confirmed Sergio Aguero will be out for over a week after sustaining a hamstring injury during Manchester City's 2-1 defeat in the Champions League against Barcelona.
The Chilean also stated that the extent of the damage is currently unknown and that they have to wait for the scan results on Saturday before putting a timeframe on the former Atletico Madrid star's injury.
The setback rules the Argentinean international out of Saturday's away clash against Hull City. The 25-year-old had returned to action earlier this month since suffering a hamstring injury against Tottenham Hotspur in January.
The striker has been in prolific form and is currently their top scorer in this campaign, having scored 30 goals in 30 appearances in all competitions. The latest setback also casts doubt over Aguero's availability for their upcoming fixtures after Hull and Fulham, which includes trips to Manchester United and Arsenal before the turn of the month.
"Tomorrow, we will know exactly the extent of Aguero's injury. We do not know exactly what is wrong. He will be out for more than one week but I don't think it is very serious. I hope that he will only be out for a couple of weeks," Pellegrini told City's official website.
The Citizens suffered blows to their quadruple hopes in their previous fixtures following their victory in the Capital One Cup final against Sunderland this month. Pellegrini's side suffered elimination from the Champions League and the FA Cup at the hands of Barcelona and Wigan Athletic, respectively.
The defeats leave them with only the Premier League title to fight for and the former Real Madrid manager is unwilling to throw in the towel. City are fourth in the table, having amassed 57 points from 26 matches and are nine points behind leaders Chelsea, who have played three matches more.
"We must try to fight. It is not only Chelsea [that are competing] - there is also Arsenal and Liverpool and they will fight until the end. Maybe Tottenham are far away at this moment but this is a very close Premier League," the 60-year-old said.
"We need to win all the games from now until the end of the season. The amount of games we've played in the last month is very high so the positive now is that we can focus on the Premier League. It is so important to win on Saturday," Pellegrini concluded.