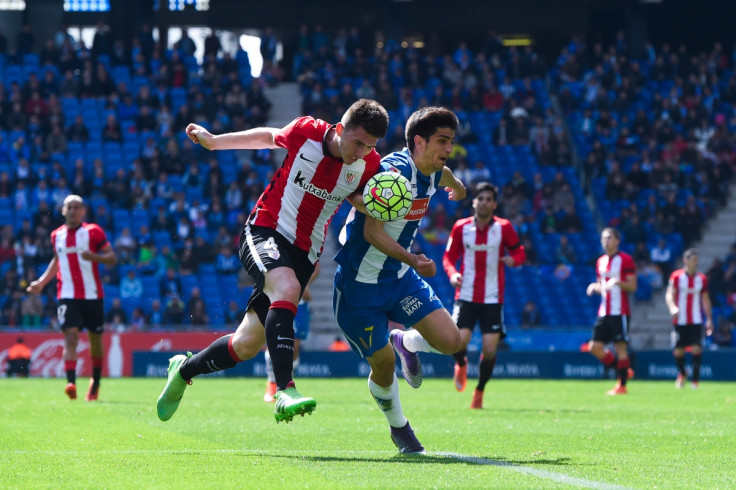 Manchester City's hope of signing Aymeric Laporte have all but ended after the Athletic Bilbao centre-back decided to commit his long-term future to the Basque side by signing a new deal that expires in 2020. The 22-year-old defender, who has also been linked with Barcelona, admitted he has received very attractive offers to leave the club but has decided to stay in La Liga instead as he is very happy in Bilbao.
Mundo Deportivo reported in March that Laporte was Barcelona's main target for the coming summer transfer window as the reigning La Liga champions are desperately looking to find a top centre-back to partner Gerard Pique at the heart of Luis Enrique's backline.
Yet, those reports cooled down after emerged that Manchester City were ready to beat the Catalans for his services.
Marca reported that Pep Guardiola's new side were ready to meet his €50m (£39.6m, $56.1m) release clause after the boss himself had convinced Laporte to make the move to the Etihad Stadium.
Barcelona have since turned their attention to other targets such as Samuel Umtiti, while reports in Spain have suggested in recent weeks that Laporte's move to City was just a matter of time.
Sport last week claimed that both the French defender and Everton's John Stones were expected to lead the City back-line under Guardiola next season.
But on Monday (13 June) Athletic Club ended those speculations, claiming that Laporte had decided to snub those proposals to sign a new deal at his current side instead. The club have reportedly given him a lucrative pay-rise to make him their highest-paid player, and in exchange Laporte's release clause has increased to €65m, growing to €70m for the the 2018-2019 campaign.
"Athletic Club and Aymeric Laporte have signed a contract renewal, which will see the player will remain [at us] until 30 June 2020," the club confirmed. "His new release clause clause is €65m and the following seasons will be as follows: €65m 2017-2018, €70m in 2018-2019 and €70m 2019-2020.
Laporte admitted that he was tempted to leave the club, but has decided instead to stay at Athletic.
"The family, my teammates, the fans and the club have helped me to make this decision. They wanted to keep me here and I am very happy here since I came to Bilbao. I have signed a new deal and I am very grateful to the club.
"There have been several clubs interested. They were very exciting and attractive projects but in the end you have to make a decision and I have made mine. I hope everything goes well. I thank the clubs that have been interested because it means that I was doing things right and so I have to keep like that at Athletic."