Madcap Mario Stays: Mancini Says Man City Star is Not Leaving Club
Italian Serie A club AC Milan are reportedly ready to offer Swedish striker Zlatan Ibrahimovic in exchange for Manchester City's Mario Balotelli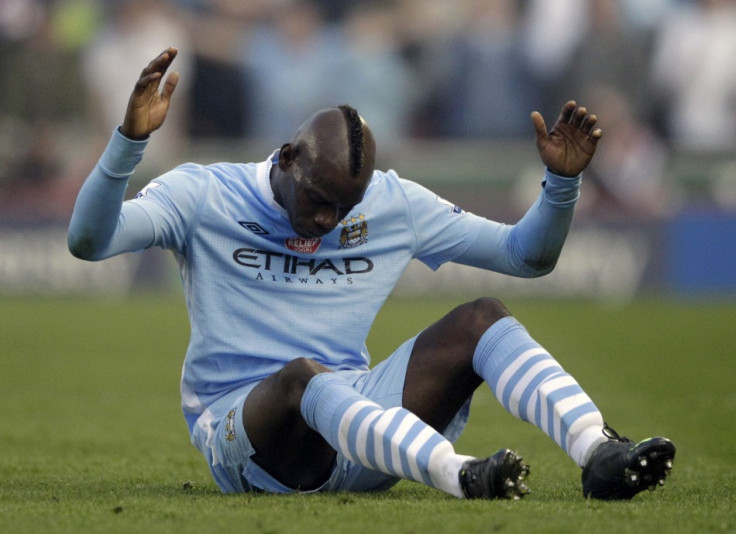 Despite numerous reports suggesting otherwise, generated almost throughout the season, Premier League champions Manchester City have confirmed star striker Mario Balotelli will not be leaving the club in the summer. Speculation surrounding the player's future at the Etihad Stadium rose most recently as a result of unprofessional conduct on the field during City's game against Arsenal and before that allegations of involvement with prostitutes and breaking club curfews.
An earlier IBTimes UK report linked the controversial Italian with a move back to Serie A and former club Inter Milan as well as local rivals AC Milan, following numerous disciplinary problems in England, including gate-crashing an Inter press conference and setting his house on fire. City manager Roberto Mancini has repeatedly alternated between expressing support (an IBTimes UK report in early April quoted Mancini as saying he hoped Balotelli would improve his character) and outright anger (another IBTimes UK report later that same week in April had Mancini saying the player had "created big problems" and he "needed to improve" or he would be finished as a professional). Balotelli, meanwhile, has been frustratingly ambivalent about the controversies he creates and his disciplinary problems, despite being quoted as agreeing he needed to "grow up".
However, a recent report by The Sun suggests the troublesome Italian is back in favour with City officials and, importantly, Mancini himself, after providing the assist for team mate Sergio Agüero's title winning goal against QPR on Sunday.
"Ibra is a great player but I don't think Milan want to sell him. Mario has been very clear and I reiterate, Balotelli will remain at Manchester 101 per cent," Mancini was quoted as saying by The Sun, in response to speculation AC Milan were ready to offer Swedish striker Zlatan Ibrahimovic in exchange for Balotelli.
"Balotelli had a turbulent end to the season but next year he wants to become a starter at Manchester City. Balotelli leaving City? I don't think that it will be an option before 2014. He does not want to leave, he is happy there," the player's agent, Mino Raiola, was quoted as saying in the same report.
Meanwhile, Balotelli has been selected, according to Goal.com, as part of Italy national team coach Cesare Prandelli's preliminary squad for the 2012 European Championships, to be held over the summer in Ukraine and Poland and Mancini is confident his star will shine.
"I am confident he will have a great European championship. I hope Mario will be the leader of the national team because he is the best Italian striker. He just needs to make his brain work. That is his only problem," the Italian boss explained, in a report by the Daily Mail.
© Copyright IBTimes 2023. All rights reserved.