Manchester City and Chelsea have been given a massive boost in their pursuit of Napoli star Edinson Cavani as the striker has now hinted at a summer move away from the Italian club.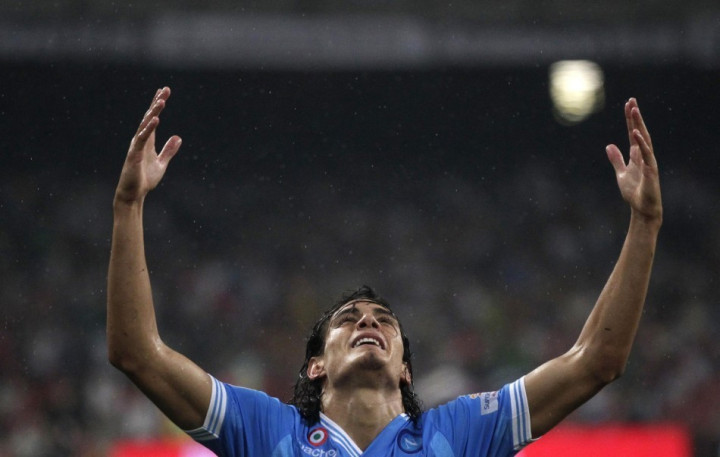 The Uruguayan has been long linked with a move to the Etihad and City's defensive coach Angelo Gregucci had admitted the Citizens' interest in signing the player. Meanwhile, the European champions have also been linked with a move in bringing the forward to Stamford Bridge. The striker believes his future depends on Napoli and their president.
"Football is a business. In Napoli I am fine as I have the love of the fans, but in football you never know where you play in the future. Much also depends on the club and the decisions of the president," the Mirror quoted Cavani as saying.
Meanwhile, the Italian club's president Aurelio De Laurentiis claims there are only two clubs who can meet Cavani's €70m release clause. Napoli is keen to hold their star player beyond this summer but the club's chief believes the striker could be attracted to top European clubs.
"Because of the 70 million euro clause there are maybe two teams who can spend that amount and you have to see if the coaches are the same or will change because they are always the ones who decide," De Laurentiis explained.
"Cavani has always shown great friendship and professionalism and has always been attached to the shirt of Napoli. It is obvious that a boy of 25 may be attracted to clubs like Barcelona and Real Madrid," Napoli president added.
Cavani has been impressive for Walter Mazzarri's side this season, scoring 20 goals in 26 Serie A appearances. With Mario Balotelli completing a move to AC Milan in January and with Edin Dzeko's likely to leave this summer, the addition of the Uruguayan to would bolster City's attacking line-up.