The euphoria of leading Manchester City to their first top-flight league title since 1968 wore off quite some time ago for City boss Roberto Mancini, and with the start of the new season now only days away, the former Lazio manager has dismissed his team's chances of retaining the Premier League title.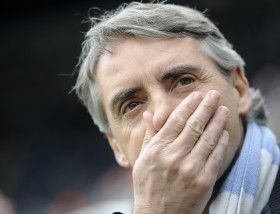 Mancini has been often quoted this summer as complaining about the lack of transfer activity at City, particularly as major rivals Arsenal, Chelsea, Manchester United, Liverpool and Tottenham have made notable additions to their first team. Indeed, City have yet to announce a single signing, while Chelsea, for example, has spent close to £70m on the likes of Belgian playmaker Eden Hazard (a reported City target) and United could be close to luring Arsenal's star striker Robin van Persie (also a reported City target), to Old Trafford.
"For this question, speak to the man in charge. I am not in charge of this. It is important [to sign players early] because, after what we did last year, it is important we continue to win. This year will not be easy. It will be harder than last year and, for this reason, we need to improve our team. But I am not the man in charge of this. We have a man who works for this [Brian Marwood, City's football administrator] and we hope that they can do a good job," the Italian was earlier quoted as saying by the Mirror.
It now appears Mancini's patience is wearing thin. Recent reports quote the 47-year-old as describing fierce rivals United as favourites to win the league this season.
"United start as favourites this year. We are maybe in third or fourth position. When you win something it is important to improve. But you should not buy new players 10 days from the end of the window. It should be two months. The championship finished on May 13. You needed to buy players before now," he fumed in an ESPN report, adding, "Now it is difficult because there are some teams who can't sell their players because they don't have time to buy anyone else. The next 20 days is very difficult in the market."
Worse still, City have been unable to offload a number of fringe and squad players who take up both roster space and command huge salaries, which the club wants to get off its books as UEFA's Financial Fair Play (FFP) regulations come into force.
Manchester City face Chelsea on 12 August in the Community Shield, the traditional curtain-raiser to the new Premier League season. This year, because of the London 2012 Olympics, the game will be played at Villa Park rather than Wembley and kick-off is at 1.30 pm BST.