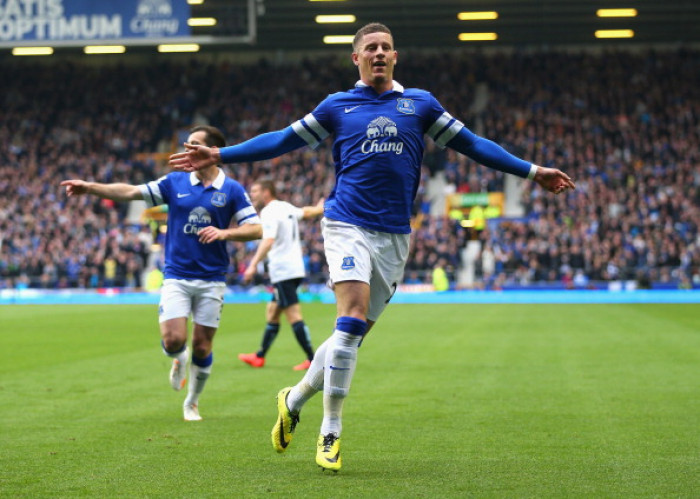 Ross Barkley has been singled out as the ideal replacement for Yaya Toure if the Ivorian decides to leave Manchester City.
The Everton and England midfielder is one of the most highly regarded talents in the Premier League and would cost City in the region of £50 million if they made their move.
Although no deal is currently in the pipeline, a potential record-breaking transfer for the 20-year-old would become a possibilty if Toure, who scored 20 goals last season, called time on his City career and English football.
Toffees manager Roberto Martinez has said Barkley will not be sold, touting him as the biggest talent he has seen in European football.
But Everton's resolve would be tested if City were forced into the transfer market to replace marauding midfielder Toure.
Paris Saint-Germain openly admire the Ivory Coast international and had reportedly stepped up their interest in him after he claimed City had denied him compassionate leave to visit his dying brother, Ibrahim.
City said at the time they would never refuse a player compassionate leave.
Toure drove a wedge between him and City after he was also at the centre of a bizarre claim that the club did not celebrate his birthday extravagantly enough.
He was said to be "very upset" that City did not make more of a fuss over his 31st birthday, even though City gave the midfielder a birthday cake and wished him happy birthday on Twitter.
His agent, Dimitri Seluk, then claimed Toure had been snubbed by the Blues' Abu Dhabi owners when the squad visited in May.
"None of them shook his hand on his birthday. It's really sick," his agent said, a sentiment Toure later backed, writing on Twitter: "Everything Dimitri said is true. He speaks for me. I will explain after the World Cup."