Manchester City News: Mancini Wants More Money, Lots More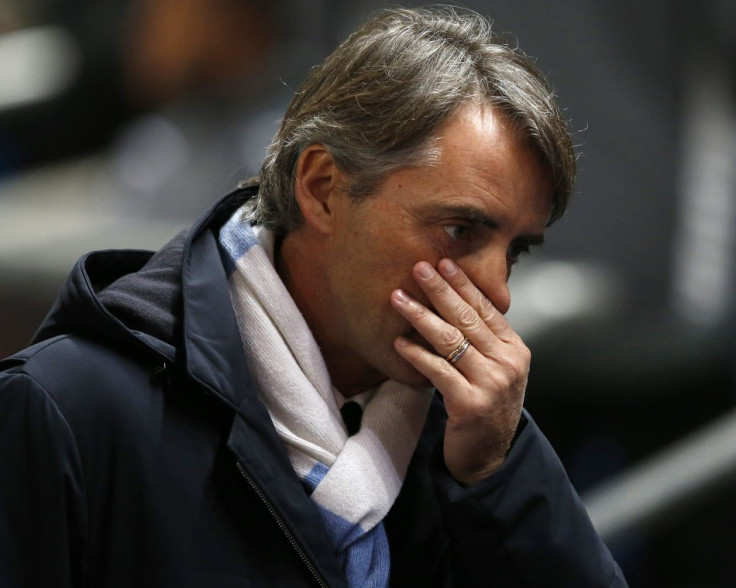 Manchester City boss Roberto Mancini has called for the club owners to once again open their purse strings and provide him substantial transfer funds ahead of the next season. The Italian boss, according to a report in The Sun, is planning a £37 million attack for French Ligue 1 club Lille's striker Eden Hazard and left-back Lucas Digne.
The club's owners - the Abu Dhabi United Group - have, it must be admitted, spent handsomely on new talent since taking over the club in 2008. In fact, one of their first pieces of transfer business was the recruitment of Real Madrid's Brazilian striker Robinho, for a then British record of £32.5 million.
That piece of big spending was followed by a flurry of activity over the years, the club rivaling traditional European big-spenders Real Madrid for the most expensive transfers - English defender Joleon Lescott signed for approximately £22 million in 2009; German defender Jerome Boateng transferred in 2010; Ivorian midfielder Yaya Toure came from Barcelona in the same year for about £24 million; Spanish winger David Silva, also in 2010, from Valencia for £24 million; controversial Italian striker Mario Balotelli, again, in 2010, for an undisclosed sum believed to be in the region of another £24 million and Bosnian forward Edin Dzeko, in 2011, for £27 million.
The above transfer list is by no means exhaustive; it does not account for money spent on Serbian left-back Alexander Kolarov, English midfielder James Milner, Arsenal's Samir Nasri, Kolo Toure and Gael Clichy, Dutch midfielder Nigel De Jong, Belgian defender Vincent Kompany and, of course, the mega-transfers of Argentine forwards Carlos Tevez and Sergio Agüero, each of whom transferred for undisclosed figures believed to be in excess of £35 million per player.
Add that all up and over three to four years, Manchester City have spent well over £225 million on new players. In fact, as outrageous as it may seem, a Daily mail report says the club has spent over £600 million.
It seems, therefore, rather a petulant demand on Mancini's part to ask for an additional £35 million or more of transfer funds when, along with Real Madrid, City have by far the most expensively assembled first team in recent history. It is also interesting to note that this is not the first time the Italian boss has made the demand.
In the above report, Mancini spoke of needing to buy more players, in December 2011, to counter the departures of the Toure brothers (Yaya and Kolo) for the African Nations Cup, which runs for a month-and-a-half.
"Until now we have been lucky because we didn't have any big injuries. This could be a problem in January because we lose Yaya and Kolo, and I hope we don't lose any other players through injury," he was quoted as saying.
Any further demand for more players, more expensive players, to be precise, is probably unlikely to be viewed very kindly by the club's owners, particularly if the club ends the season without a single trophy, despite their strong start to the campaign. Additionally, the owners could also point to Manchester United, whose transfers, from the 2009/10 season, include £16 million Ecuadorian winger Antonio Valencia; £10 million for English defender Chris Smalling and, according to a Guardian report, £16 million each for English duo of defender Phil Jones and winger Ashley Young and £18 million for Spanish goalkeeper David De Gea, among others. All of this, including undisclosed fees for youngster like Gabriel Obertan and Javier Hernandez, is materially lower than City's outlay.
The question, therefore, is does Mancini really have good reason to ask for money?
His big money signings have had varied success. Agüero, Silva and Yaya Toure probably represent his best deals. On the other hand, mega bucks spent on Tevez, Dzeko and Balotelli have all backfired, in one way or the other.
The nearly £40 million he has asked for, to sign Hazard and Digne, may turn out to be money well spent or more down the drain. Either way, it is more than likely that the club will tell their manager that as successful as the season may be considered, he will have to consider selling players (Tevez and Dzeko come to mind) before bringing any in. Of course, the point then is that if Mancini opts to send one big-money player out to bring another in, he will put himself back in the same boat he now believes in - that he doesn't have a squad big enough to compete - in which case he will probably go back to asking for more again!
MUST READ: Manchester City Transfer Targets: 5 Players Roberto Mancini Must Sign This Summer
MUST READ: Wenger Confident of Third Place Finish and Taming City
MUST READ: Liverpool Transfer Rumour: Reds Looking to Fiorentina Winger and Anderlecht Striker
MUST READ: Robin van Persie: My Best Ever Goal Was against Man City
© Copyright IBTimes 2023. All rights reserved.