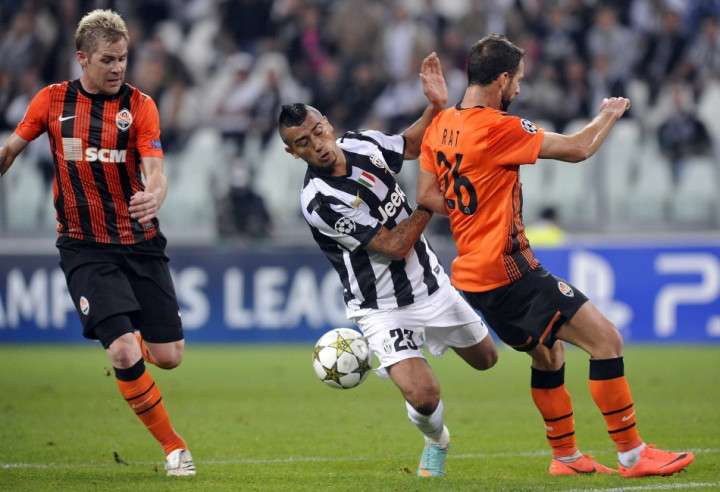 The Chilean international joined the Italian champions last summer, from Bundesliga club Bayer Leverkusen, and has quickly established himself as a key member of the Old Lady's squad.
The 25 year old midfielder was in London in early September, to play Chelsea in a group game for this season's Champions League and scored a wonderful long-range goal to begin his side's comeback from 0-2 down.
"Mancini loves this guy to death and has briefed owners about him. There was talk last summer Tevez or Dzeko might have been involved, but Juve wanted silly money," a club source admitted in a Goal.com report. The Guardian reports clubs will have to offer fees in excess of £40m to get Juventus' interest.
If the report is true, City will face competition for the player's signature from cross-town rivals Manchester United and Spanish champions Real Madrid. The Italians have already had to warn Madrid off the player, with the club's director general, Beppe Marotta, quoted in an ESPN report.
"I made it clear to Felicevich [Fernando Felicevich; the player's agent], and indirectly to Real, that Vidal is not for sale," Marotta explained, adding, "Vidal isn't available for transfer and it has nothing to do with his fee. The simple truth is that Vidal is one of the pillars at Juventus for today and tomorrow."
Another Midfielder for Mancini
It could be argued that of the two Manchester clubs, United's need for a player in Vidal's mould is far greater. Mancini already has an embracement of riches in the midfield, with Yaya Toure, Gareth Barry, Jack Rodwell, Javi Garcia and James Milner already available. The Ivorian international will be away at the start of 2013, of course, for the African Nations Cup, but the acquisition of Vidal, now, is not going to help the club in the long-term.
United, on the other hand, need a defensive screen to operate in front of an increasingly error-prone and costly back four. Rio Ferdinand was cruelly exposed for pace against Tottenham over the weekend and once again in the Champions League game against Cluj. The absence of Nemanja Vidic, Chris Smalling and Phil Jones has created considerable trouble for Sir Alex Ferguson, whose reliance on 37 year old Paul Scholes is becoming increasingly inadvisable. Vidal would be a perfect foil to the likes of Scholes or Michael Carrick or Tom Cleverly, allowing one of these three to control the attacking flow of the game while he breaks up the opposition's attacks. In addition, if he can score goals like the one against Chelsea... then so much the better.
City's presence is likely to irk Ferguson though (as will Madrid's). The Old Trafford club have already lost one midfield target - Lucas Moura - to big money bids (from Paris St Germain) and the thought of another South American slipping through his fingers will not please the Scot.