Manchester City manager Roberto Mancini visited Madrid's Vicente Calderon stadium on Sunday to watch transfer target Radamel Falcao in action.
The Atletico Madrid striker scored his eighth league goal of the season to help his club to a 2-1 win over Malaga and stay in touch with league leaders Barcelona. Enrique Cerezo, the Spanish club's chairman, admitted Mancini was in attendance but continued to dismiss any talk of a transfer for his star forward.
"We know that Mancini has come to watch the game but we are calm with the topic of Falcao," Cerezo said after the game.
Falcao, 26, has been in sensational form since his switch to Atletico from Benfica at the start of last season. The Colombian international is widely regarded as being the only contemporary footballer comparable to Barcelona's Leo Messi and Real Madrid's Cristiano Ronaldo.
Falcao scored a stunning 36 goals for Atletico in his debut season and led them to the 2012 UEFA Europa League title as well as the UEFA European Super Cup, with a hat-trick against Champions League winners Chelsea in the latter.
His exploits have earned him the attention of Chelsea and City, as well as Atletico's cross-town rivals Real Madrid, for whom his father said Falcao "dreams" of playing; those reports were supplemented by reports of Falcao "loving Chelsea since he was a boy". The striker was earlier linked with a £48m January move to Stamford Bridge, reports of which were promptly dismissed by the Spanish club.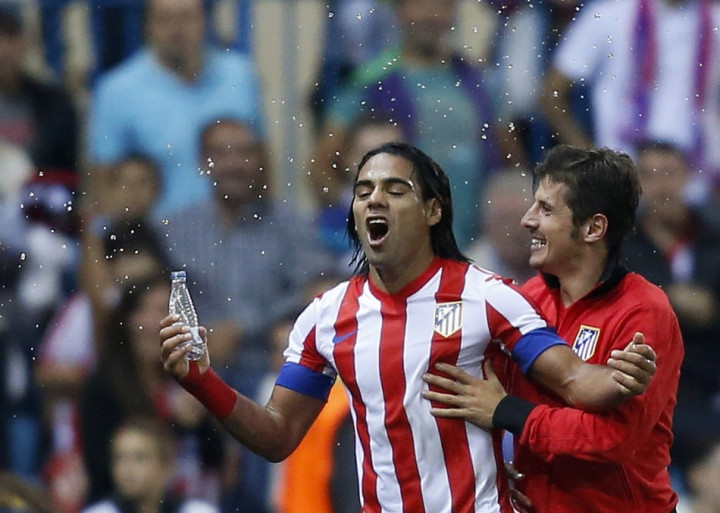 "I do not give any importance. Whilst not tell the person who is the player, nothing happens," Cerezo explained, adding:
"A parent can bring their children what they see fit because they have lived their childhood and youth, but Falcao has explained clearly, is happy and content with Atletico and is here for four years."
Meanwhile, in what may be bad news for Cerezo, Falcao has admitted he did consider leaving Atletico this summer, after reports of financial instability.
"I thought about the possibility of leaving when the club said that it would be difficult to continue if it did not get into the Champions League," the striker said, adding:
"The future was uncertain because of finances but the team made a big push and almost the entire squad stayed in the end. That's something that shows how well Atletico are being managed. I'm under contract for a few more years, my reality is Atletico and I can't think about anything else."