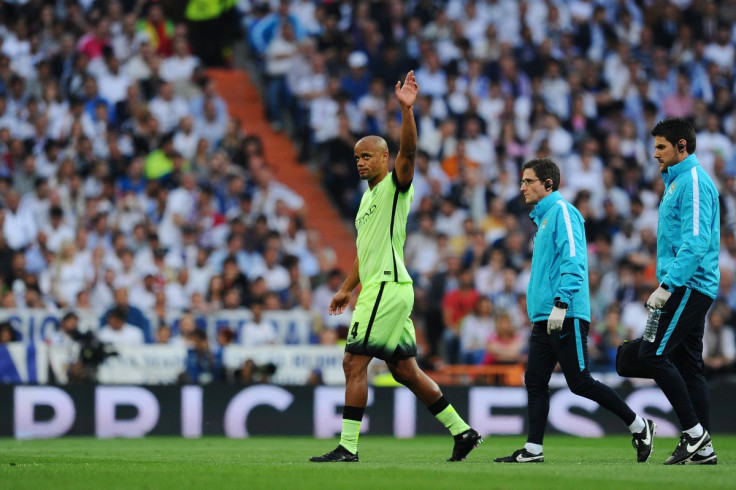 Manchester City captain Vincent Kompany will miss the all-important Premier League clash against Arsenal on Sunday (8 May) due to injury. The 30-year-old Belgian limped out of City's Champions League semi-final second leg against Real Madrid with a groin problem and is now set to miss City's two remaining games of the season.
Manager Manuel Pellegrini revealed his inspirational skipper has already had the injury assessed and they are expecting the results of those tests to be made clear on Monday. The Chilean also admitted he is not yet sure if Kompany will be available for the European Championships in France this summer.
"We don't have the medical examination on Vincent – he's with the doctor. On Monday we will know," he said during a pre-match press conference, according to the club's official Twitter account.
The 62-year-old boss said Kompany's ongoing injury woes, which have seen him play just 22 matches out of a possible 57 this season, is a problem the club's incoming manager Pep Guardiola must solve. "We must talk with the doctor, with the player, with the people who will be in charge of City next year. It's a medical issue," the City boss shared.
Meanwhile, Pellegrini also confirmed City will be without the injured Pablo Zabaleta, David SIlva and Aleksandar Kolarov for the game against Arsenal. He admitted, too, that he would be emotional about his last match as the club's manager at the Etihad Stadium.
"I don't know what will happen in the future but I'm very proud of this squad and what we've done in these years," Pellegrini said of his three-year spell at City. "I will have emotions but I prefer not to show them in an external way."