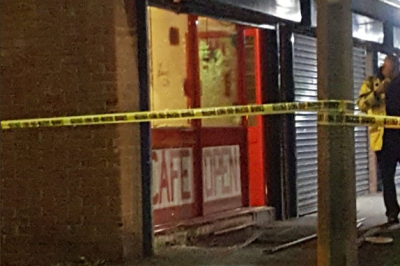 A device which exploded outside a cafe in the Salford area of Greater Manchester was reportedly packed with nails and screws. The "industrial-type firework" was left outside The Lounge in Douglas Green, Pendleton.
Residents reported hearing a loud bang and feeling their houses shake as the device exploded at around 12.30am on Tuesday (12 September).
It caused damage to the cafe's shutters and windows, with photos of the aftermath showing smashed glass and debris littered on the pavement.
Greater Manchester Police say the nature of the device, the motive and the perpetrators are still under investigation.
Detectives described the device as an "industrial-type firework", adding: "While many people may think we are talking about the kind of fireworks you would purchase for bonfire night, we are not. These are extremely dangerous devices, which would cause serious injury to anyone nearby when they are ignited."
A source close to the investigation also told Manchester Evening News: "It was packed full of nails and screws and forensics have been pulling them all out of the woodwork." The newspaper said a second source confirmed nails were in the device.
Police are also probing whether the incident could be linked to another explosion on Saturday night which saw a similar firework blow up the exhaust pipe and rear bumper of a Vauxhall Corsa in nearby Grafton Avenue, Eccles.
Both incidents have led to the arrests of four men on suspicion of possession of explosives.
They were detained on Thursday following a dramatic police chase which saw the suspects' Lexus ram a police car in Salford.
The occupants – four men aged 20, 24, 24, and 29 – then tried to escape on foot but were caught. They have since been bailed pending further enquiries.
Police are appealing for anyone with information to come forward.
Superintendent Mark Kenny of GMP's Salford borough, said: "Although we have made arrests, the investigation is very much ongoing.
"The safety of the people of Salford is our priority and we have ensured that the investigation is moving forward as quickly as possible. This has included dedicated detectives and support from the fire service.
"I would urge members of the public to come forward if they have any information to support this investigation or assist in identifying where the explosive devices originated from.
"We are working closely with Salford City Council regarding the legal and safe supply of fireworks. Help us protect the safety of the people of Salford and bring those responsible for these serious attacks by calling us with any information you have."
Anyone with information should contact police on 101 quoting reference number 33 of 12/09/17 or the independent charity Crimestoppers, anonymously, on 0800 555 111.