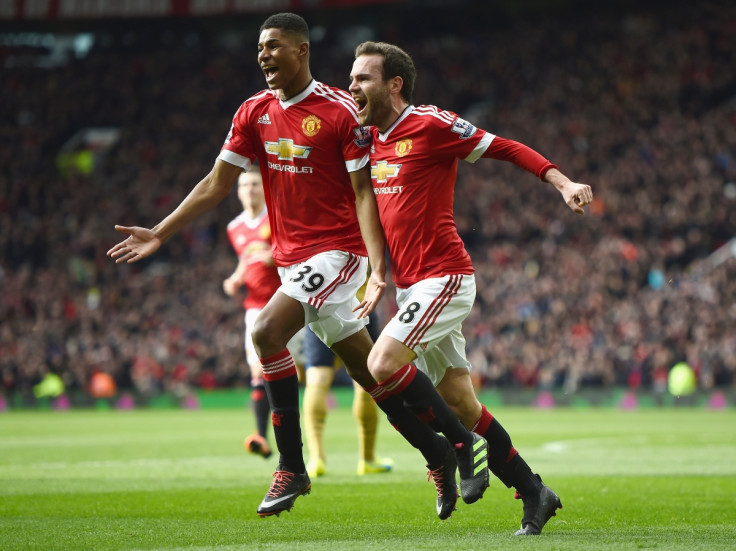 Manchester United midfielder Juan Mata thinks the Red Devils' 3-2 victory against Arsenal at Old Trafford was a huge triumph for the club's academy. United won the game in large part thanks to a brace from 18-year-old striker Marcus Rashford, who led the line in a youthful United side.
Louis van Gaal's squad has been reduced to its bare bones because of injury, and Mata admitted the younger players have done a brilliant job in filling the void left by the senior stars.

"Marcus is on fire! He scored two goals against Midtjylland and now again against Arsenal. I'm sure it's a week he'll never forget," Mata said, according to the club's official website.
The United star also praised debutants Tim Fosu-Mensah and James Weir, as well as the other inexperienced players in the matchday squad against Arsenal. "I feel so proud - I can't tell you how proud I am of all of them. It's not easy for young lads to come here and play well, but the quality they're showing is great," Mata said of United's young players.
"Obviously, everyone is talking about Marcus and we're all delighted for him, but the others who came in to play in defence and midfield were also great. I think today is a day to be proud of the club and its Academy - we've shown the level that we have."
United have now won three key games in seven days, following victories in the FA Cup and Europa League, and Mata is thrilled with their recent efforts. "We knew this was a massive week for us," he said of United's form. "We had to go through in the FA Cup and then the Europa League, and we also had to win [against Arsenal] if we still wanted to be in [the race for] the top positions in the Premier League.
"It's a massive win for us and I think it's been a great week – we played great football and won against a big rival."