Alan Hansen claims that David De Gea is becoming a liability for Manchester United, with the pundit claiming that the young keeper has made one too many mistakes for the side and is overshadowing the performances of Rio Ferdinand and Nemanja Vidic.
De Gea made the move to the Red Devils in the 2011 summer as a replacement for the retired Edwin van der Sar, and the pressure has been particularly high for the Spain international to keep the high standards his predecessor set before him.
The United keeper made another mistake on Sunday against Tottenham, and it cost Ferguson's men a win, with Spurs equalising in the last minute to take a 1-1 draw at White Hart Lane.
And Hansen believes that there needs to come a time where De Gea is punished for his mistakes, as sides look to use his weaknesses to an advantage when they play United.
"It cannot be allowed to continue because other teams are going to play on it," he said in the Daily Telegraph. "They will set up their approach to games to target the goalkeeper because De Gea undoubtedly has a frailty and a weakness when the ball is in the air and it has been proven time and time again.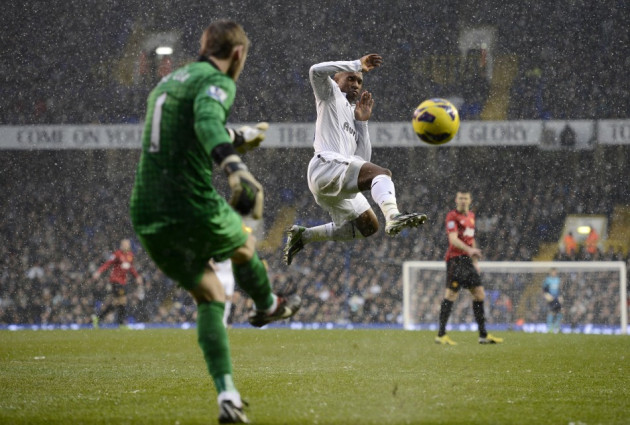 "If Sir Alex was playing against a goalkeeper who he knew was susceptible in the air, he would be telling his players to show no mercy. Other teams will be doing exactly the same against United when De Gea is in the team."
Hansen also asserted that De Gea's fatal mistake yesterday took away the attention from Rio Ferdinand and Nemanja Vidic, who are establishing continuity in United's defence once more as the pair return to their top form after injury issues.
"Not only did De Gea's mistake cost his team two points, it also detracted from what I thought was a defensive masterclass from Rio Ferdinand and Nemanja Vidic," he explained.
"Michael Carrick and Phil Jones were also excellent but the two centre-halves were absolutely magnificent.
"It was only the second time this season the central defenders have played back to back games and they proved there is no substitute for experience. By not having them together last year it ultimately cost them the title and you can just see the difference they have made to the team over the last two games."