Manchester United midfielder Anderson has quashed rumours that he is set to return to Portugal but has admitted that he would one day like to return to Porto.
There has been plenty of speculation about the future of the Brail international as he has struggled to prove to Sir Alex Ferguson that he deserves a starting berth in the United midfield.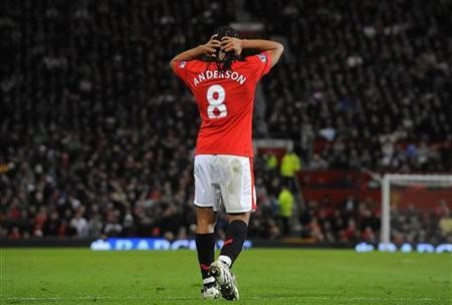 Having joined Manchester United in the summer of 2007 from Porto, Anderson has never managed to become a regular in the side and has consistently been linked with a move away from Old Trafford.
The 24-year-old did impress when he first joined the club but the last 18 months have been disastrous as injuries and a severe loss in form have meant that he has been forced to spend the majority of his time on the sidelines.
Anderson has admitted that should he return to Portugal he would only move to Porto, however, he believes Manchester United would not want to let him leave and he is keen to stay.
"In Portugal, I have only ever played for Porto and if one day I came back, I would play for them," Anderson told A Bola, as reported on Sky Sports.
"But the return to Portuguese football is far from happening. United will not let me go and I will not put myself in that scenario."
The midfielder has made more than 150 appearances for Manchester United in all competitions but has seen his importance diminish in recent seasons.
Last year it was assumed that he would have more game time after the retirement of Paul Scholes, but he failed to take his opportunity and was duly taken out of the side once the former England midfielder returned.