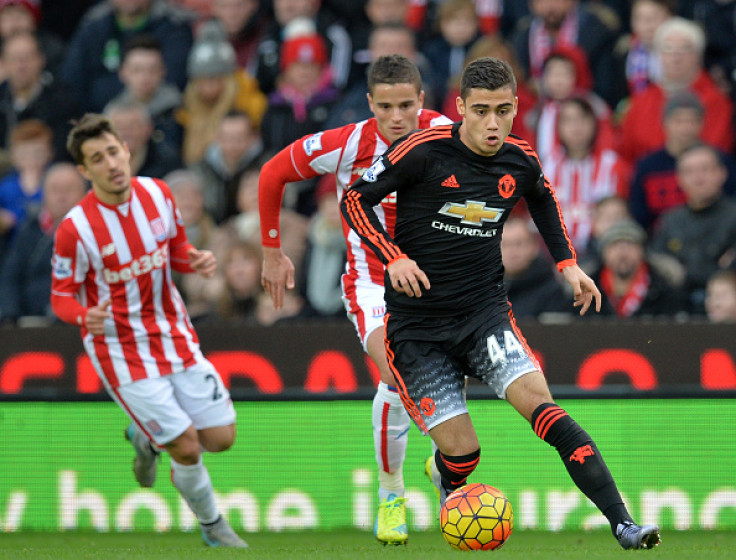 Manchester United midfielder Andreas Pereira has accused Louis van Gaal of reneging on his promise of game time with the first-team after blocking a proposed loan move during this year January transfer window. The Brazilian midfielder was keen on moving to another club in the hope of playing regular first-team football, but was denied the opportunity by the Dutchman with the promise of opportunities at Old Trafford.
The 20-year-old midfielder was denied a chance to prove his worth with the senior squad. He made just five appearances since January, with four of those coming in the Europa League and FA Cup. His only Premier League appearance came in a two-minute cameo during their 3-0 win over Stoke City in the beginning of February.
Pereira, however, is remaining calm regarding his situation at the club despite the lack of game time with the senior team. The midfielder has been a regular with the U21 side, and played an important role in helping the reserves retain their U21 Premier League title. He is confident that he will get his chance with the senior team owing to his consistent performances, but made it clear that the manager failed to keep his word after blocking his move to play at a higher level.
"I wanted to be loaned out in January in order to play more and to keep developing myself, but Van Gaal told me that he did not want me to be loaned out. He told me to stay in Manchester because he would use me and that I would play," the Brazilian U20 international told Goal.
"I told him that was fine, and that if I could stay and play then I would. He did not let me leave. I took the decision and now I'm training, doing my job and waiting for him to fulfil his word.
"Of course I expected to play more. I think that I deserved the chance. I did well in the games that I had the opportunity to play, but football can be like that.
"My manager has not given me this opportunity yet and I will keep working hard, waiting for the chances. If they've not come this year, then maybe the next, but I'll be ready. I'm very calm because everyone sees that I'm playing well and that I deserve my shot."