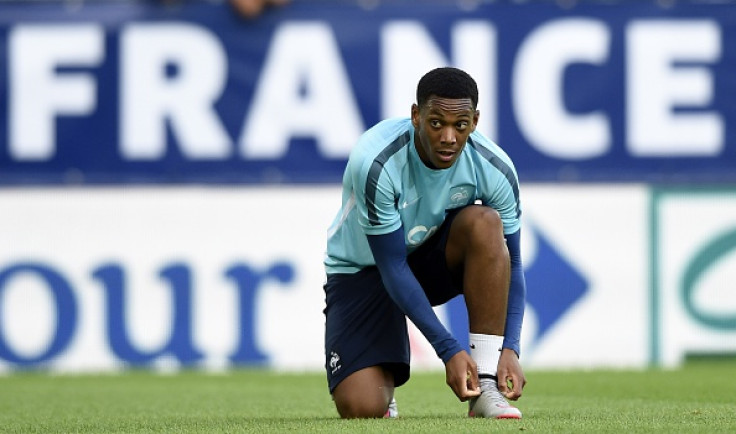 Former Manchester United striker Louis Saha claims Anthony Martial has all the abilities to become a top player and help the Red Devils win silverware. The France international arrived at Old Trafford from AS Monaco on deadline day.
After completing his switch to England, the 19-year-old joined his national team for two friendly fixtures against Portugal and Serbia. On both occasions, he came off the bench as France won both the matches.
Martial's brother Dorian suggests the forward's leadership qualities will help him become a future captain at United. Louis van Gaal's side has been lacking speed and Saha remains hopeful the arrival of the French forward will give the 20-time English champion more pace up front.
"He's got that speed, that power, he's got that youth in him so he'll surprise a lot of defenders because they don't know him," Saha said, as reported by Sky Sports. "It's a great asset for Manchester United and that's what they needed because up front they lack speed sometimes."
"In France we call him the next Thierry Henry because he can play left or right and he's got a great ability with the ball. He can take on three, four players with ease, there is no problem. At the same time, the new generation have no fear. He's got such an ability that he can win trophies for Manchester United I believe that, but I don't want to put too much pressure on him."
Meanwhile, Martial is hoping to impress at United as he has set his sights on playing regular football for his national side. France will host next year's European championship and a chance to shine with the English giants will see him being included in Didier Deschamps' squad.
"I hope for regular call-ups by playing well for my club," United's website quoted Martial as saying. "It is a great honour. It was a bit like the Champions League – there was a lot of intensity. I gave what was necessary and we won. That is the most important thing. I could not be more happy."