Manchester United manager Louis van Gaal says the club will not know the extent of Anthony Martial's injury until Sunday, 8 May. Martial, United's top scorer this season with 15 goals, withdrew from the starting XI ahead of Saturday's Premier League clash with Norwich City after pulling up during the warm-up.
Wayne Rooney, who was expected to start the match in central midfield, moved up front in the France international's absence and helped his side to an unconvincing 1-0 win over Norwich.
United also lost Matteo Darmian to injury early in the first-half, after he was stretchered off with what appeared to be an ankle injury.
United are back in action on Tuesday night in a crucial meeting with West Ham United but van Gaal is not yet sure whether either player will be in contention.
"Anthony felt something and I'm a manager who is not taking risks," van Gaal United's official website. "Especially not in his situation, and I said this to Anthony because he has played most of all the matches, like Daley Blind and Chris Smalling.
"He is 20 years old. I have to take care of him so he didn't play and Wayne had to play the striker's position. He gave an assist to Juan Mata and it has been solved very well.
"When a player says he feels something, he shall not play. I think you have to be fit – especially in this weather as that is a big difference. We have to see tomorrow (Sunday) if the muscle is tight."
Darmian, who was replaced by Cameron Borthwick-Jackson, left Carrow Road wearing a brace.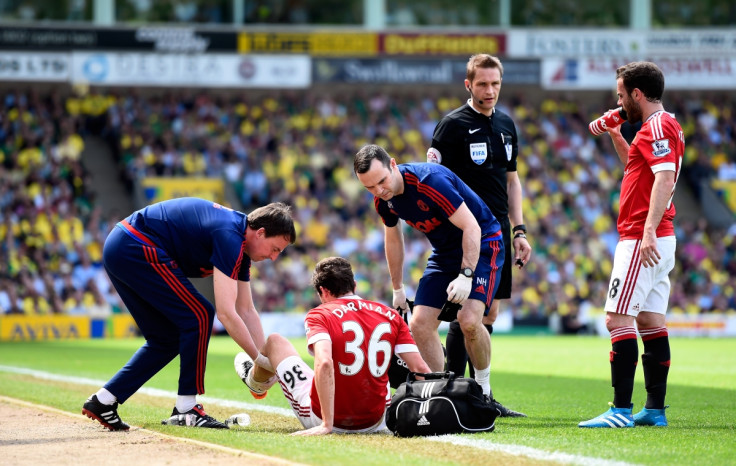 "Darmian has a kick on the ankle so we will have to see the reaction tomorrow," van Gaal added. "It is too early to say. Now he is walking in a brace but, tomorrow, it can be good again, because a kick is a kick."
In addition to those injuries, van Gaal also chose to omit Daley Blind and Marcus Rashford from his match-day squad. The Dutchman reassured both players were simply being rested.
"I think they needed that rest and also you have seen other players are needing a rest. But I cannot give everybody a rest and that is the problem. You have to make these decisions before the game and not after it.
"I thought Daley and Marcus needed a rest because they have played a lot of matches, nearly every match. Rashford is a youngster and he's played the last 10 games so it's not easy for him and he needs that rest."