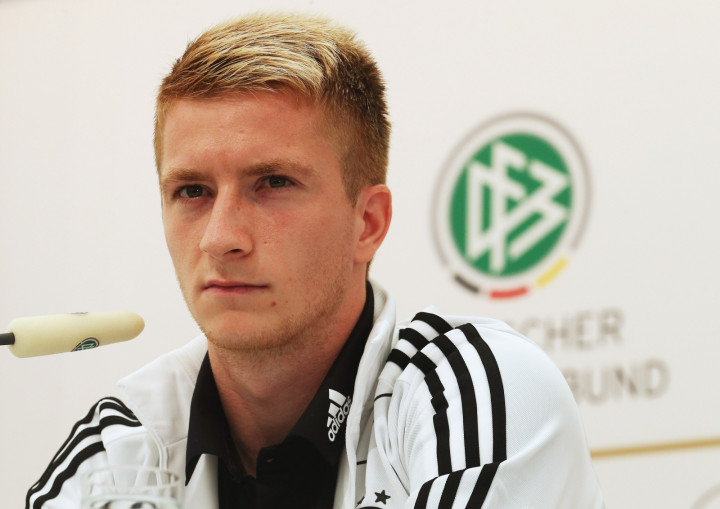 Borussia Dortmund forward Marco Reus will turn down moves to Arsenal and Manchester United while his heart is with the Bundesliga club, according to Germany general manager Oliver Bierhoff.
The 25-year-old has been heavily linked with a move away from Dortmund in recent seasons, with reports linking him with a move to Champions League runners-up Atletico Madrid during the summer.
Although the move failed to come to fruition, a host of Premier League sides including Arsenal, Liverpool, Manchester City and United continue to be mentioned in regard to Reus, who has netted two goals in six league starts this term.
Reports on Tuesday suggested that Reus had rejected a move to Arsenal as he felt the north London team didn't represent a club capable of winning trophies on a consistent basis.
But hopes any of English football's elite had of signing Reus appear to have again been dashed after Bierhoff said the player has no plans to leave the Westfalenstadion club in the near future.
"I can still see [Reus] playing for Dortmund," Bierhoff told Sky television. "Dortmund is a guarantee for him. I know that Marco also has his heart in Dortmund. He knows what he's got there and he treasures it too.
"Marco is the kind of person who needs to be in settled surroundings but, of course, you do also get envious of your rivals when they are lifting the trophies.
"When a club like Real Madrid or Barcelona want to make you their big summer signing, then you ask yourself if you will ever get this chance again," the ex-Germany striker added. "I just hope this issue doesn't weigh Marco down as he's confronted with it almost on a daily basis."
Despite each making a host of additions during the summer transfer window, both Liverpool and United are expected to be active in January after making inauspicious starts to the campaign.
Liverpool are expected to continue their search for a replacement for Luis Suarez following Mario Balotelli's trials at the start of the campaign while United will likely direct their attention towards adding to their defence after a string of injuries.