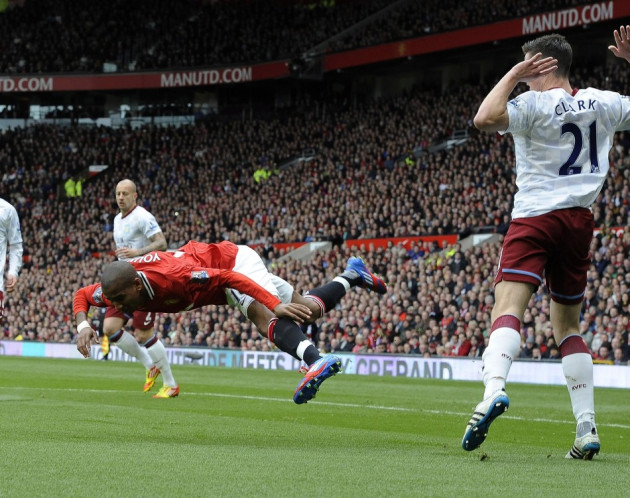 Ashley Young is adamant that he will not be changing his ways amid recent accusations of diving.
The Manchester United winger maintains that it is up to the referee to deal with his diving as he remains unapologetic of his behaviour.
"Referees have got tough decisions to make," he said. "They have a tough time out there making decisions, but they have made the right decisions I think."
Young was booked for simulation before winning a controversial penalty against Crystal Palace earlier this season and came under further scrutiny after going to ground against Real Sociedad in the Champions League. Both incidents prompted a vicious backlash from sections of the press and former players, but the winger is unconcerned by what is said of him.
"I don't take notice of the headlines or the debates. That's obviously for people to have their say on it, and everyone is entitled to have their say on it. For me, the referees have made decisions and that's it."
The 28-year-old went on to reveal that his antics had not gone unnoticed by both Sir Alex Ferguson and current boss David Moyes who are both said to have exchanged strong words with him on the matter of diving.
Young, who has gained a reputation for his unruly play, has come under fire from United fans as well as former club and Sunday's opponents Aston Villa.
The winger may be seen to be treading on thin ice as he continues to struggle to secure his place in Moyes' side, raising concerns for his hopes of England World Cup selection next year.
"Obviously it's been disappointing, I've not been involved as much as I'd have liked," he said. "Right now, I'm not thinking about the World Cup, I'm thinking about playing for United.
"You always want to play in the biggest tournaments, so of course I want to be on that plane but I don't think there's a player who has been involved in the squad that doesn't."
Mid-table Manchester United travel south to meet Aston Villa on Sunday afternoon.