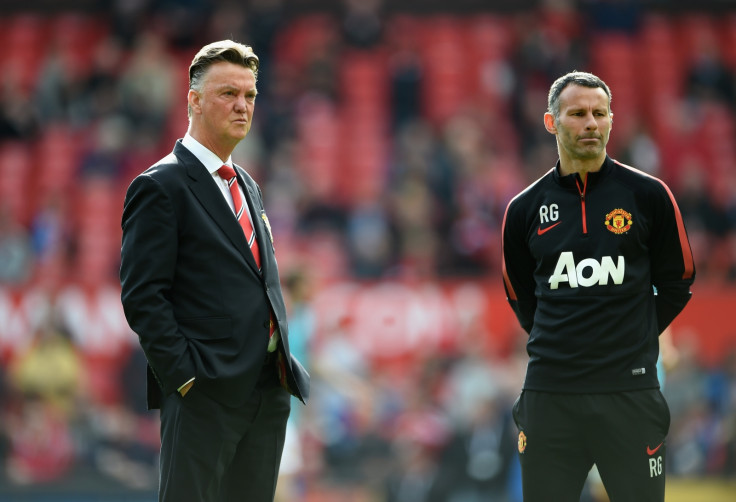 Ryan Giggs insists he is loving life working with manager Louis van Gaal at Manchester United this season and is satisfied with the role handed down to him by the Dutchman.
Giggs, who led United in their final four games of last season as interim boss following the departure of David Moyes, has recently been tipped by former teammate Paul Scholes to leave Old Trafford in order to become a manager in his own right.

But the club's most decorated player of all time insists he is in no rush to set out on his own and his happy with his role, which sees him advising the manager on the more unique details of Premier League opposition.
"I don't think in the next year or so, there is no rush," Giggs told the Sun when asked about managing his own side. "As far as I am concerned, I am really happy where I am and have no plans on going anywhere else. I am really enjoying it."
The relationship between Van Gaal and Giggs was thrust under the microscope recently when the two produced strikingly different reactions to United's last-minute winner against Newcastle United on 4 March.
In a subsequent press conference, Van Gaal laughed off suggestions of a rift between himself and his assistant manager, and Giggs maintains he has a healthy working relationship with the Dutchman.
"I am loving it," Giggs said. "The Premier League is different. The manager has said when you go to Spain or Germany they play similar football but in this country you have different styles.
"You have good footballing teams or more direct teams and also it is a lot quicker. That is my job, to give him the background on teams we are playing. And in turn, I am learning everyday things you need to be a coach.
"It is a big responsibility. I did it in pre-season. The manager said: 'I want you to do this and see how you go.' There were no promised and if I had been rubbish I think he would have said: 'No, leave it for a bit and so something else.' But I did OK."