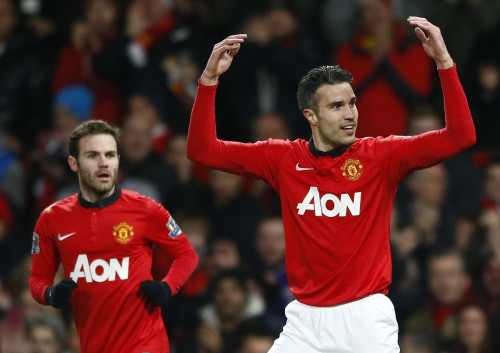 Manchester United manager David Moyes has outlined his ambitious plans to accommodate Juan Mata, Wayne Rooney and Robin van Persie in the first team after all appeared in the win over Cardiff City.
Moyes handed Mata his United debut following his record move from Chelsea while both Rooney and Van Persie returned after extended injury lay-offs.
The Spaniard's arrival had sparked suggestions it could mean the end of Rooney's career at Old Trafford, with the pair operating in the same areas, however Moyes is relishing the opportunity to accommodate the pair together, with Van Persie leading the attack.
"I can play him in any role," the United boss said of Mata. "He can play off the left or off the right, which allows me to keep the Rooney-van Persie partnership.
"I'm quite comfortable with that, and he's also capable of doing another job like the no.10 role. Wayne has dropped into midfield in some games, so we've got options.
"I know we can use Juan in different positions - I think what he'll do [wherever he plays] is take the ball. We'll get used to him and he'll get used to us. Mata scores goals and creates chances, and you can't get enough of those, especially at Old Trafford.
"Now we've got competition, I can use the players at different times and change them within games if we need to do that. I wanted to see Juan play with Robin and it was good to get him those minutes.
"The crowd gave him a fantastic reception. They saw he was creative in the early part of the game and he probably made our best chances in the first 20 or 30 minutes."
Mata made an assist as his United career began with a win over Cardiff, while Moyes also welcomed back Rooney and Van Persie ahead of the final third of the season where qualifying for the Champions League is the priority.
United face Stoke City this weekend as they look to keep pace with Liverpool and Tottenham Hotspur in the race for Europe and Moyes could unleash the trio as well as Adnan Januzaj at the Britannia Stadium.