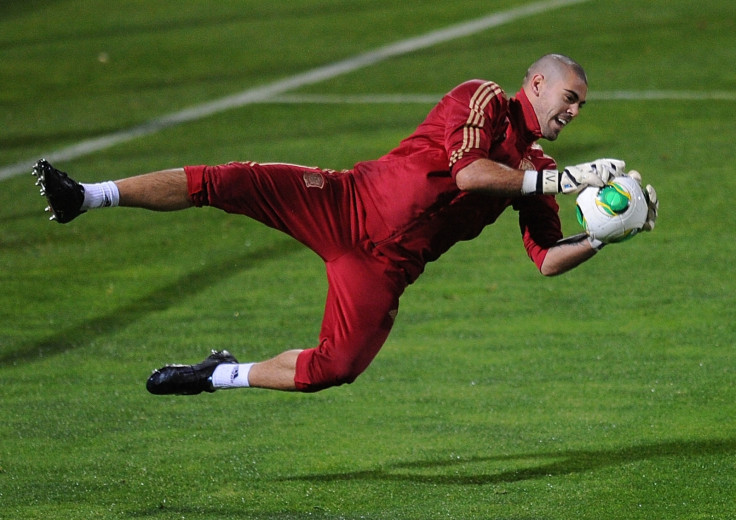 Manchester United manager Louis van Gaal has claimed Victor Valdes' future at Old Trafford remains uncertain and he even refused to rule out the possibility of the Spaniard signing for Liverpool during the January transfer window.
The future of the ex-Barcelona goalkeeper has been in doubt ever since he decided to leave the Camp Nou at the end of last season, after his contract expired on 30 June.
The Spain international initially agreed personal terms to join Monaco but the Ligue 1 side backed out after he tore his anterior cruciate ligament in March.
Valdes was then linked with a number of Premier League clubs including Arsenal and Manchester City but in particular Liverpool, with reports in Spain suggesting a deal was in place.
But in October, the United manager, who handed Valdes his first-team debut at the Nou Camp, gave the Spaniard the chance to complete his rehabilitation from injury at the club's Carrington training ground.
Valdes has since been linked with a permanent move to the Premier League giants once he is ready to return to action, with Van Gaal refusing to rule out the possibility.
"United always has their eyes open," the manager then said.
However, Van Gaal has now claimed Valdes' future remains uncertain and he became irritated when asked about the 'keeper.
"It's only talk from you. Not from us, not from Valdes, only the media. I'm not here to inform the media. You have to wait and listen and see," he said.
After Liverpool boss Brendan Rodgers dropped Simon Mignolet during the 3-0 defeat against United last weekend, reports have claimed the Merseyside team are looking to sign a goalkeeper in January.
Van Gaal has added fuel to the speculations, saying: "[If Liverpool are interested] he goes to Liverpool.
"The media are suggesting and that's a big mistake. That's why I'm always angry because you are inventing stories. There are no stories.
"He is training here. I give him the possibility to do that. We shall see."